I got a cheese making kit in the mail a few weeks ago, which I was so excited to rifle through and examine. I love getting new tools and materials for projects.  It's the same feeling as getting a new, clean notebook for the start of school.  Everything came so neatly labeled and organized.  I never would have known how to go about ordering the various culturing elements and implements on my own.  But, now I'm all set with all the cultures, rennet, cheesecloth, measuring spoons (going as tiny as 1/64th tsp!), a cheese press etc.  Time to get culturing!
Unfortunately, the sweet cow at the farm where we get our milk was busy having a baby and couldn't be bothered to be making extra milk, despite my shiny new cheesemaking kit!  So, we waited patiently and drank our almond or coconut milk, which was a nice change anyway.  But, we were excited to hear that she finally had her calf and we could finally get fresh, local, raw, delicious milk again!
I started with butter.  The milk from that mama cow was so rich; there was a ton of cream on top.  Do you like my makeshift siphon?  I still haven't figured out the easiest way to get the cream off the top. Any tips?
We allowed the raw cream to culture naturally by adding a couple tablespoons of cultured dairy, like plain yogurt or buttermilk. It sits out at room temperature for a day, two max, after which we put it in the refrigerator to stop the culturing process, for about 5 hours. We then poured the cream into a mixer and turned it on high, reducing the speed as the butter formed. It was seriously miraculous to watch the butter fat and buttermilk separate in the mixer.  My husband and I stood over it Oohing and Aahing like it was the 4th of July.  I will just never tire of the magic of kitchen alchemy.
Like kneading bread, pressing and washing the butter had a meditative quality to it.  There are certain things that can't be rushed, but simply ask you to slow down and enjoy the process.  Making butter is one of those things, not time consuming, but just something that asks you to be present.
And the result?  Oh, mercy!  It's cultured.  It's creamy.  It's flecked with local, ancient salt.  And I put it on everything I can get away with.  We feel like kings eating something this delicious.  Clay is talking about making me a butter mold, something a little better than this tart pan.  How fun would that be?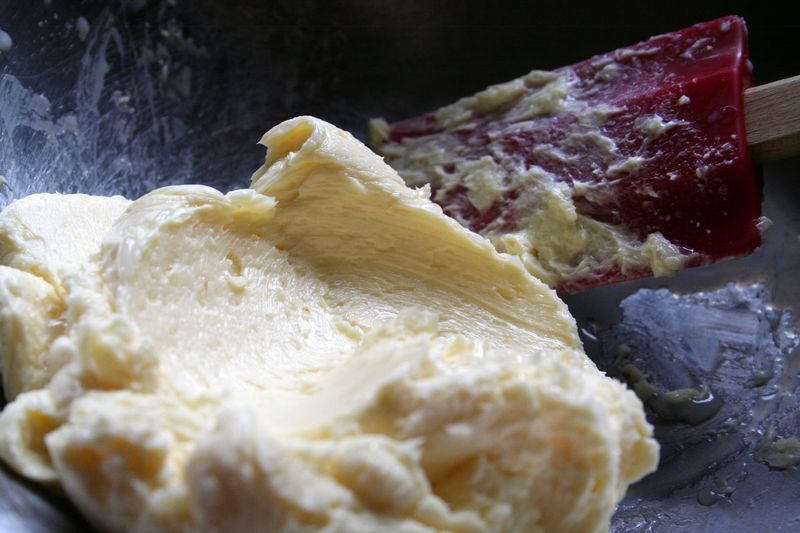 Prep Time: 48 hr
Total Time: 48 hr
Ingredients
1 gallon

raw milk

2 Tbsp

cultured dairy yogurt, buttermilk, &c.
Directions
Separate cream and add cultured dairy. Let sit at room temperature for 12-48 hours.
Refrigerate for 5 hours.
Mix on high, without splattering the cream, and increase speed as it thickens. Reduce speed as clumps of butter form to allow them to stick to each other.
Remove butter from buttermilk, rinse and press until water runs clear.
Salt if desired.
Store in the freezer or fridge, as the butter spoils within a few days at room temperature.
Powered by