I love the way that Jamie Oliver uses the word proper to describe a certain dish. It sounds very British, yes, but it also implies that the form of that dish that we are familiar with is probably not as authentic, or delicious, as a more traditional version might be.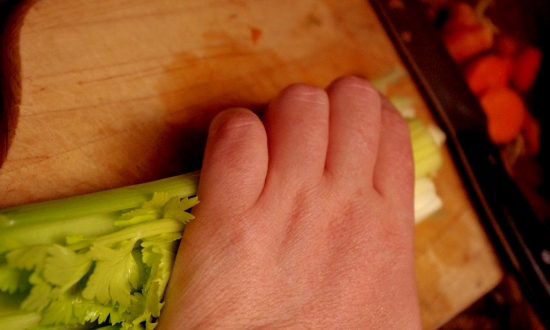 The truth is, most of these things are relative in that so long as certain elements of the dish exist, it can be done "properly" with what ever means you fancy.
Take chicken stew, for instance (or in our case rooster stew because we need all of the laying hens we can get). In my mind a proper pot of chicken stew should be rich, creamy, slightly spicy from the black pepper, and with all of the beautiful flavors of homemade chicken stock and dried thyme.
Of course there should also be the usual suspects – celery, carrots, and onion as well. And because I'm a big fan of a one-pot meal I like potatoes in ours. Those could easily be left out though, in favor of rice or peas or a bit more of the carrots and celery.
The richness in this recipe comes from butter, cream, and bacon – which lends a slightly more meaty note and makes this dish even more satisfying.
Make it with a hen, a rooster, or a store-bought chicken; but whatever you do don't omit the fatty components that make this a proper pot of chicken stew.
Course: Main Course
Main Ingredient: Chicken
Ingredients
2 slices

bacon diced

4 tablespoons

butter

4 large

carrots diced

4

celery stalks diced

2 medium

onions diced

6 medium

potatoes diced

1-2 quarts

chicken stock (stock from one whole chicken)

2 large

cooked chicken breasts cubed (possibly from a previously roasted chicken or making chicken stock)
1 1⁄2 teaspoons dried thyme
1⁄3 cup heavy cream

3 tablespoons

flour (or 1 1/2 tablespoons corn starch)
salt and pepper to taste
Directions
Add diced bacon and butter to a Dutch oven. Melt butter and render bacon over low heat until the bacon has rendered all of its fat. Turn heat up to medium and add carrots, celery, and onions and a generous pinch of salt. Saute for approximately five minutes or until vegetables are beginning to soften.
Add potatoes and chicken stock – just enough to cover all of the vegetables by about an inch.Season with salt and pepper and cover. Bring to a simmer and reduce heat. Cook for 20-30 minutes or until potatoes and all other vegetables are tender. Add cubed chicken and thyme.
Make a slurry from the flour (or cornstarch) and cream by adding the two to a bowl and whisking well to combine or shaking in a pint-sized jar. Slowly pour in slurry while stirring stew constantly. Bring to a gently boil, stirring frequently, until cream and flour are well incorporated and the broth begins to just thicken up a bit. You are looking for rich and creamy, not thick and gravy-like.
Remove from heat and taste for seasoning, adding salt and pepper as needed. Serve piping hot.
Powered by