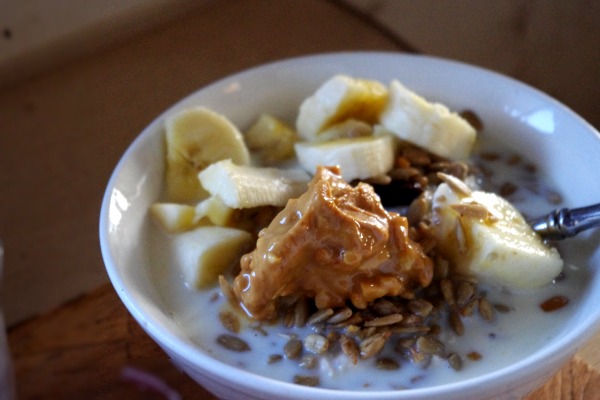 Course: Breakfast
Serves: 4
Ingredients
1 3/4 cups

old-fashioned rolled oats

3 tablespoons

chia seeds

1 3/4 cups

yogurt kefir, sour milk or other fermented dairy product (or 1 3/4 cup water + 1 T apple cider vinegar or l
water as needed

8 T

sunflower seeds or other nut,

1 cup

diced fresh fruit apples, bananas, berries, etc.
dried fruit optional
raw milk as desired
Directions
The day before you plan to serve the muesli combine the oats, chia seeds, and yogurt in a quart jar. Mix well. Add water and mix until the level of the mixture reaches four cups. Cover tightly with a lid.
Allow to sit at room temperature until the next morning. (Don't freak out, it won't go bad. The friendly bacteria in the fermented milk will keep everything a-okay.)
The next morning divide the muesli amongst four bowls. Top each with nuts and fresh or dried fruit. A blob of nut butter would not be out of place either. Serve in bowls with raw milk.
Powered by