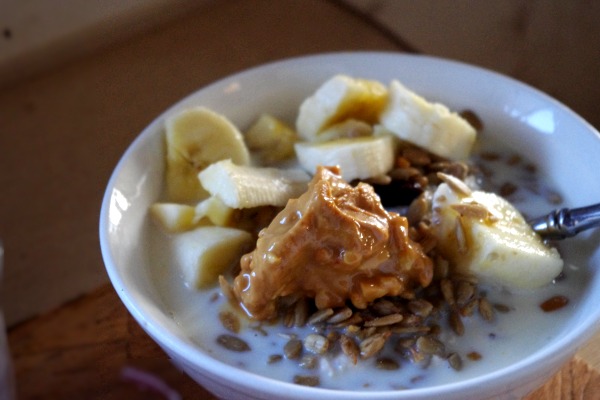 Sometimes I miss cereal. That's not to say that I haven't bought it out of desperation here and there, but most of the time my cereal-buying experience goes something like this:
I think "Cereal sounds good!"
When I make that week's trip to the grocery store I go down the cereal aisle with a spring in my step.
I walk down that aisle slowly, staring at the boxes and the prices.
I turn around at the end of the aisle and go back over those same boxes and prices once more.
I stand there a minute pondering and finally tell myself "It's not worth it."
Okay, it's a little dramatic, but it's very similar to so many other comfort foods I grew up with, eventually crave, and then decide to make a more nutrient-dense, economical version of.
This soaked breakfast muesli fills that cold cereal spot with something I can live with and something that seems worth it – both monetarily and nutritionally.
Ingredients
1 3⁄4 cups old-fashioned rolled oats

3 tablespoons

chia seeds
1 3⁄4 cups yogurt kefir, sour milk or other fermented dairy product (or 1 3/4 cup water + 1 T apple cider vinegar or l
water as needed

8 T

sunflower seeds or other nut,

1 cup

diced fresh fruit apples, bananas, berries, etc.
dried fruit optional
raw milk as desired
Directions
The day before you plan to serve the muesli combine the oats, chia seeds, and yogurt in a quart jar. Mix well. Add water and mix until the level of the mixture reaches four cups. Cover tightly with a lid.
Allow to sit at room temperature until the next morning. (Don't freak out, it won't go bad. The friendly bacteria in the fermented milk will keep everything a-okay.)
The next morning divide the muesli amongst four bowls. Top each with nuts and fresh or dried fruit. A blob of nut butter would not be out of place either. Serve in bowls with raw milk.
Powered by