I'd read in Wild Fermentation
that once upon a time, condiments were digestive aids rather than vehicles for excess fat, sugar and salt in our diet.  I'd always wanted to try some cultured condiments and Jenny, over at the Nourished Kitchen, posted a rather enticing recipe for real ketchup.  Her post made it look so easy that I gave it a try.All you really do is mix up a few simple ingredients and let it sit for the weekend while you go visit family (at least that's what we did).  It couldn't be easier.
2 cups

tomato paste preferably homemade

1/4 cup

honey or other sweetener

1/4 cup plus 2 Tbsp

whey

2 Tbsp

apple cider vinegar plus extra for thinning, if desired

1 tsp

salt

1 tsp

allspice

1/2 tsp

ground cloves
Directions
Mix the tomato paste and honey.
Whisk in 1/4 cup whey and apple cider vinegar, sea salt, allspice and cloves.
Spoon it all into a jar and top with remaining whey or vegetable starter culture, cover loosely with a cloth or lid and allow the ketchup to sit at room temperature for three to five days.
Uncover the ketchup and give it a thorough stir before transferring to the refrigerator.
Powered by

For the whey, I just put some yogurt in a cheesecloth and let a bit drain out.  I didn't have homemade tomato paste, but I did have a few jars of organic stuff kicking around in the pantry.  I think the store-bought stuff lent it a bit more of an acidic taste.  If I follow through with my goal of canning bushels of tomatoes this summer I'll try it again with the homemade version.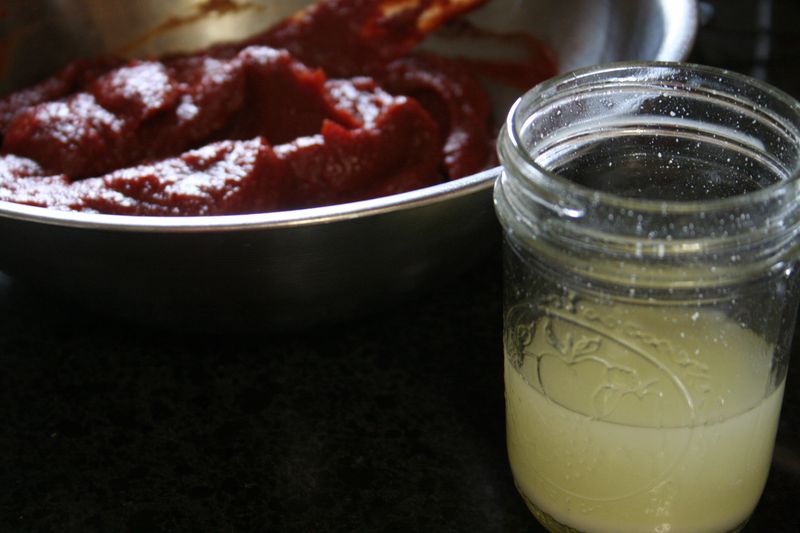 I also didn't have ground allspice, though I did have the little seeds, so I just threw in a spoonful, which may have made those notes a bit stronger.  But, it still tasted pretty yummy (even if it looked kind of gnarly); a little improvisation didn't hurt.
We made a fry sauce of sorts, homemade ketchup with greek yogurt, to dip home fries in tonight and everyone loved it.  I loved knowing that instead of ketchup being a compromise ("Well, at least he eats all his dinner if it's slathered in ketchup…"), it was actually a beneficial, nutritious part of the meal.  I have this hunch that eating a lot more cultured food would do us worlds of good.  Ketchup will be a first step in that direction.