Again with the breakfast recipes, I know. Like I said before, I have a problem and I can't help it.
This is one of those bowls of hot comfort foods you crave if you're not eating grains. It's pumpkin pie in a bowl, but it's breakfast. It's also extremely versatile and can easily be made dairy-free with the use of coconut milk, which pairs exceptionally well with pumpkin spices by the way.
You could also add a couple of extra eggs to the mix for protein and some granola, cereal, or nuts for some crunch (also known as the pie crust). Whatever you do be sure to try this recipe if you're aching for porridge but can't touch grains.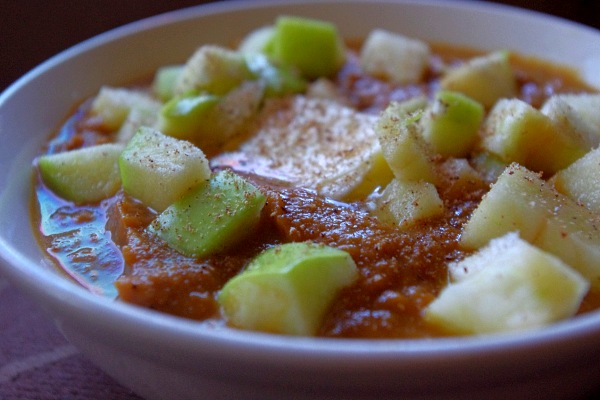 Ingredients
1 29 oz. can

pumpkin puree
1 1⁄4 cups whole milk (or coconut milk)
3⁄4 teaspoon sea salt

4 tablespoons

butter

2 large

eggs

2 teaspoons

pumpkin pie spice
1⁄4 cup honey (or 2 tablespoons if using sweet apple)

1 large

apple diced

4 tablespoons

butter for serving
Directions
Add pumpkin, milk, butter, and honey to a small saucepan. Heat over medium-low heat until hot. Be careful to stir frequently as the thick pumpkin becomes a bit like molten lava.
Stir in the pumpkin pie spice and remove from heat.
In a small bowl beat the eggs. Temper them by adding spoonfuls of the pumpkin mixture at a time while stirring constantly. After four large spoonfuls your eggs will be tempered, meaning they shouldn't scramble if you add them to the hot pumpkin. Pour the egg mixture in, while stirring, and heat over low for 2-3 more minutes until everything has cooked through.
Serve topped with chopped apple, an additional tablespoon of butter, and a sprinkle of nutmeg. Adding granola or nuts as a texture contrast wouldn't be a bad idea either.
Powered by