I often get stuck in a rut when it comes to choosing a starchy side dish. We used to just do a lot of protein and vegetables and skip the starch, but now that we're working on our land every day that simply doesn't cut it. Some type of bread, grain, or potato is needed at most meals.
Since half of our family is wheat free this means that most all of our baked goods must be homemade and sometimes I just haven't had the time to bake. That's where my friend the potato comes in. They're filling enough to stop the incessant "I'm still hungry" from little boys and nourishing enough to be an every day staple.
And while I would gladly serve baked potatoes every day simply because they are so easy to prepare, I have to switch it up sometimes to keep things interesting and to keep myself out of the rut. Here are some ideas for potatoes that are still simple to prepare, but tasty enough to shake things up a bit.
Boiled new potatoes with butter and herbs.
This is just about as simple to prepare as a baked potato. You simply boil small new potatoes – red or gold – until tender. Drain well and then toss with butter, salt and pepper, and fresh herbs. Dill and chives are particularly delicious.
Crash Hot Potatoes.
This recipe, originally from Pioneer Woman, involves the extra step of baking after boiling. Let me tell you, though, it's worth it for a nice supper, especially if you're feeding company. You boil potatoes until tender and then lay them out on a baking sheet, smash them to expose the center, and bake with olive oil and seasonings until deliciously crunchy.
Oven-Fried Potato Wedges with Ranch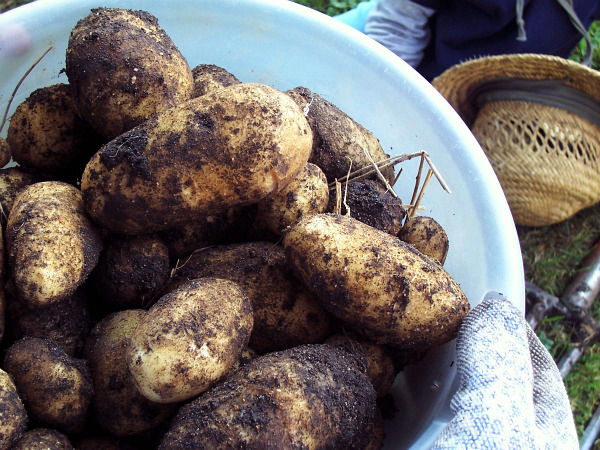 Sometimes all it takes is a simple idea from a friend to strike food inspiration. Such is the case with oven-fried potato wedges. I had made these a time or two before we moved to Texas, but one night a friend made them for us for dinner alongside a delicious pot of beans. She served them with homemade ranch for dipping. Needless to say we have been eating them regularly ever since.
Simply toss sliced potato wedges with cooking fat and salt and bake at 425 degrees for 30-45 minutes.
Hash Browns
These are a real treat in our house. Their crunchy edges and salty richness is potato perfection. The trick to good hash browns is to eliminate as much water from the potato as possible before frying to ensure they get golden and crunchy.
Grate whole potatoes on the large holes of a box grater. Place in a clean kitchen towel and squeeze or ring out the potatoes over the sink until you have eliminated as much water as possible. Place a few tablespoons of lard or butter in a skillet over medium heat and add potatoes in a thin layer. Fry until golden brown and flip.
Mashed Potatoes with a Twist
Onion + bacon. Fry bacon and then onions until caramelized. Stir into mashed potatoes.
Colcannon. Stir cooked ham, cabbage, plenty of butter, and scallions into mashed potatoes for an Irish delicacy.
Garlic. Stir any type of garlic into your mashed potatoes – raw, roasted, etc. – for a flavorful mash to remember.
How do you prepare potatoes?