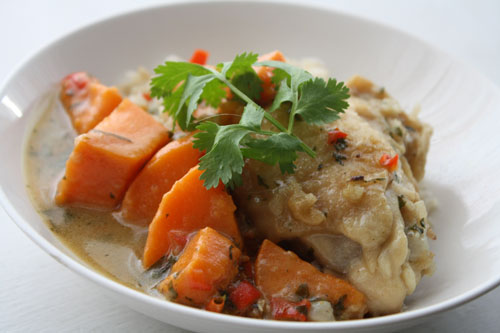 Here's a yummy dish to warm your belly on a chilly, fall day. Everyone loved this dish, especially the kiddos who like a reason to cast aside eating utensils for fingers–chicken on the bone being a perfect excuse.
This meal was tasty and filling, and the sweet potatoes and peppers make it a nice fall dish. Instead of using whole chicken legs, I used four chicken legs and four thighs. This worked well for our family. You can use any chicken pieces that you prefer, just make sure they have skin-on and bone-in.
We served this over brown rice, but if you're feeling extra fancy, it would be delicious with black beans and rice.
Source: Harvest Eating Cookbook by Keith Snow
Ingredients
1⁄2 cup GF flour mix
2 tbs ground cumin
2 tbs fresh sage chopped
sea salt and pepper
4 chicken legs with thighs attached bone-in, skin-on
4 tbs olive oil
1 cup organic bell pepper diced
1 cup organic onion diced
2 cups homemade chicken broth
1 cup canned coconut milk
1 large sweet potato peeled and cut into 1 in. cubes
1 bunch cilantro chopped
potato starch/ corn starch/ arrowroot for thickening
Method
Combine flour, cumin, sage, salt and pepper. Dredge the chicken in the flour.
Heat the oil in a dutch oven over med-high heat. Add the chicken and saute it until well-browned on all sides, approx 10 minutes.
Add the bell pepper and onion and season with salt and pepper to taste. Saute 5 min more.
Add the broth, coconut milk, sweet potato, and cilantro. Cover and cook for 30 minutes.
Remove the chicken and keep warm. Thicken the sauce with a slurry made from equal parts cold water and potato starch. Pour the sauce over the chicken and garnish with cilantro.