Remember that big jar of preserved lemons that I made a few months ago? It's so delicious. And every time I open the fridge I hear it calling to me from the back of the top shelf, begging me to pull it out and put it to good use. I was starting to pity it, so I pulled it out…and put it to good use. You can use the preserved lemon peel in any recipe that calls for lemon rind, or lemon juice. But it's particularly good in recipes from the Middle East and Northern Africa, like tagines.
Tagines are pretty trendy right now and you could spend a lot of money on special tagine cooking pots, but you don't really need the special pot in order to cook a tasty tagine (although if one of these showed up on my doorstep, I certainly wouldn't turn it down). A tagine is, essentially, a slow-cooked stew. I like to make it on the stovetop so that I can get a nice sear on the meat and brown the veggies before braising everything in the broth, but you could even make a tagine in your crock pot.
This one is really tasty and packs a lot of flavor into a dish that requires very little effort and time. I've made it three times in the past three weeks–that's how tasty it is! Once it was a big batch, just for me, to eat off of throughout the week. The second time I made an even bigger batch for the family of a friend who just had her sixth baby. The third time I made it for my own family and they all gave it the thumbs up. So this recipe has passed the test more than once and has quickly become a family favorite.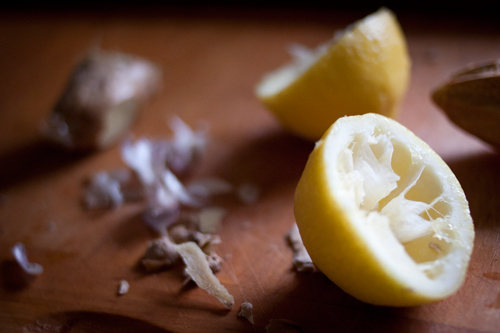 Note that my jar of preserved lemon contains whey, which is dairy. If you can't have dairy, you'll have to use the lemon rind or find yourself another preserved lemon recipe. Dairy proteins come from two sources, casein and whey. You could be allergic to both, or either (or neither one, lucky you). I have horrible problems if I have casein, but was happy to discover that I seem to be tolerating small amounts of whey just fine.
If you don't happen to have a big jar of preserved lemon in your fridge, or if you do and you can't tolerate it, just use the grated lemon rind. It won't be quite the same, but will still be pretty darn good. Serve over a steaming bowl of rice.
Plan to Eat users, click on the recipe title to import it into your account.
Chicken Tagine with Lemon and Olives
Source: adapted from Cooking Light
Ingredients:
2 tbs fresh lemon juice
12 organic chicken thighs skinless, boneless
1⁄4 cup gluten free flour
1⁄2 tsp sea salt
1⁄4 tsp pepper
1⁄4 tsp turmeric
2 tsp olive oil
1 tsp fresh ginger minced
2 garlic cloves minced
1 cup chicken broth
1⁄4 cup green olives halved
2 tsp lemon rind or preserved lemon, minced
1 cinnamon stick
Method:
Combine juice and chicken in a large bag. Marinate in fridge for 30 minutes.
Dredge chicken in flour, sprinkle with salt, pepper and turmeric. Heat oil in a large skillet. Add half of chicken and cook for 3 minutes on each side. Remove and repeat with remaining chicken.
Add ginger and garlic to pan. saute 1 minute. Return chicken to the pan. Add broth, olive, rind and cinnamon stick. Bring to a boil. Cover, reduce heat and simmer 1 hour, or until chicken is tender.
** Sharing this recipe over on Cybele Pascal's blog. Click on over for lots more allergen-friendly goodness.