Start This Recipe about 12 hours before you want to eat it
Dinner Table Rating

1 thumb per family member
Cook's Rating

Accessibility of ingredients, ease of preparation, and affordability
Friends, a picture of this recipe does it no justice. You need to taste it, or at least smell it, to believe it.
You must make this recipe. Tonight.
Moroccan Style Chicken (Nourishing Traditions, page 282)
Ingredients
1 organic frying chicken, cut into pieces
1/4 cup naturally fermented soy sauce
1/4 cup dry white wine
2 tablespoons honey
juice from 2 lemons
3 tablespoons preserved lemon peel (or grated lemon rind)
1 clove garlic, peeled and mashed
1 teaspoon curry powder
1/4 teaspoon ground ginger
1/2 teaspoon each dried oregano, thyme and crushed green peppercorns
3 tablespoons melted butter
2 cups homemade chicken stock
8 dried apricot halves, coarsely chopped and soaked in warm water
1.  Mix soy sauce, wine, honey, lemon juice, lemon peel and all spices together. Marinate chicken pieces in this mixture in the refrigerator for several hours or overnight.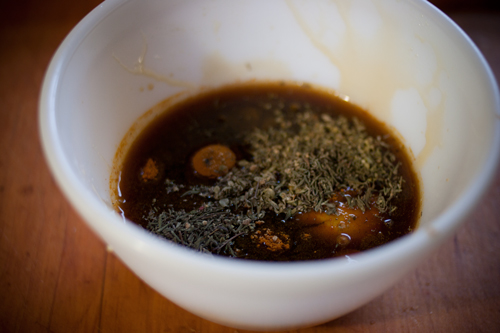 You could definitely do this the night before and let it sit until dinner time the next day. I found it easier on my schedule (read: I wanted to watch a movie the night before with Sweetie Pie) to mix it up in the morning and let it sit until dinner time. I felt that the preserved lemons really boosted the lemon flavor, but if you don't have a jar on hand you can easily use the grated lemon peel.
Sally emphasizes the importance of a high-quality, organic chicken. Conventional chickens are raised in overcrowded conditions, are fed substandard feed, and require frequent doses of antibiotics and growth hormones. These drugs all end up in your dinner. Yuck. I found a nice, to-the-point (and non-belligerent) article on using organic chicken instead of conventional chicken here. If you're really interested, there are a number of links to more articles in the side bar of that article.
2.  Remove pieces, pat dry and set skin side up in a stainless steel baking pan, reserving marinade. Brush with butter, season with sea salt and pepper and bake at 375 degrees for about 2 hours. Reduce heat if chicken begins to burn. Remove chicken to a platter while making the sauce.
I have to say, I was really skeptical about the cooking time and temp here. 2 hours? 375 degrees? As it turns out, yes, that was pretty accurate. My oven runs a little hot, so I actually ended up doing 350 degrees for one hour, covered it with foil and reduced the heat to 300 degrees, then cooked it for another hour. This smelled amazing while it was in the oven.
3.  Pour chicken stock into the pan, bring to a boil and stir well. Add marinade and drained apricot pieces. Let sauce reduce by about one-half. Check seasoning and pour over chicken pieces.
I don't have a pan that can go from the oven to the stove top, and this isn't the first time I've wished for one (I have a birthday coming up, and Le Creuset has a very desirable roasting pan….just sayin'). So while I gave this recipe a Cook's Rating of 3 stars, the way I had to do it would actually only get 2 stars. I felt it was only fair to judge the ease of the recipe on the way it was written, and not on the cookware I did or did not have in my kitchen. So if you, too, lack a stainless steel roasting pan, here is how to do it: Roast the chicken in a sturdy, glass baking dish; remove the chicken; add some warm broth to the baking dish and scrape all the gooey, browned bits off of the bottom with a wooden spoon; pour this into a large saucepan on the stovetop and continue with making the sauce.
Sally notes that the addition of chicken stock makes your entire meal more digestible, since it contains hydrophilic colloids (gelatin). "Hydrophilic" simply means that it attracts liquids. What this means to your tummy is that the gelatin will attract digestive juices and result in rapid and more effective digestion. Here is an excellent article on the benefits of gelatin on your GI tract.
I chose to put the chicken into my saucepan once the sauce was ready, instead of pouring the sauce over the chicken. Either would be suitable.
This dish got 6 thumbs up at the dinner table. Everyone loved it and had seconds. Sweetie Pie even said, "Wow, that. was. amazing." Sally notes the health benefits of eating the skin and dark meat, which modern diets say are bad for you. Chicken skin is rich in fat-soluble vitamins and antimicrobial fatty acids. The dark meat contains more minerals than the white meat. So no need to feel guilty over eating those pieces of delicious, crispy skin. And when you make this, would you invite me over for dinner? My mouth is watering just looking at the pictures and remembering how yummy it was.
Source: Nourishing Traditions by Sally Fallon
Course: Paleoish-Main (Chicken)
Ingredients
1

whole organic chicken, cut into pieces
1⁄4 cup naturally fermented soy sauce
1⁄4 cup dry white wine

2 tablespoons

honey
juice of 2 lemons

3 tablespoons

preserved lemon peel

1 clove

garlic peeled and mashed

1 teaspoon

curry powder
1⁄4 teaspoon ground ginger
1⁄2 teaspoon dried oregano
1⁄2 teaspoon dried thyme
1⁄2 teaspoon crushed green peppercorns

3 tablespoons

melted butter

2 cups

chicken stock

8

dried apricot halves coarsely chopped and soaked in warm filtered water
Directions
Instructions in Nourishing Traditions, page 282
Powered by