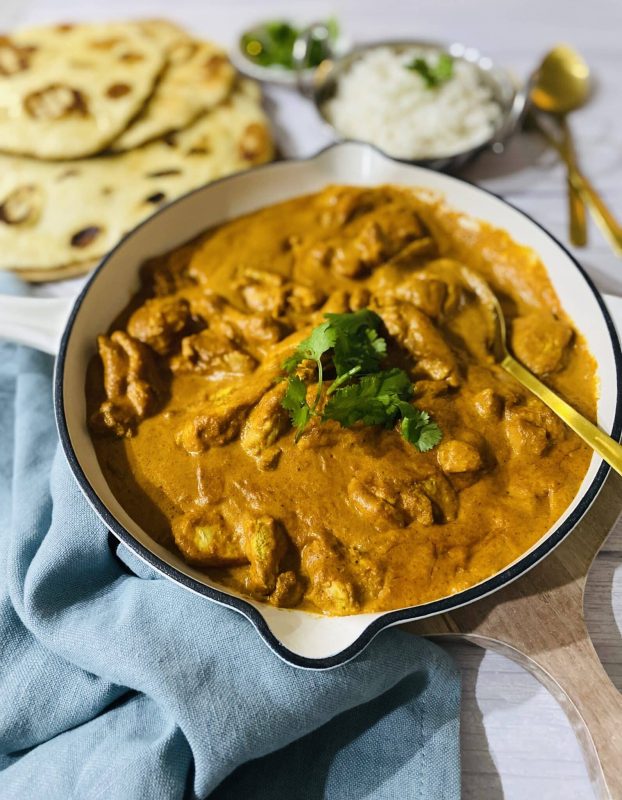 Butter chicken, also known as murgh makhani, hails from humble beginnings in the 1950s from a restaurant called Moti Mahal located in Delhi. It was born from not wanting to be wasteful with the leftover tandoori chicken pieces from the day. They were added to a creamy rich gravy of tomatoes and butter, which little did they know would be a dish that would put them on the map and go down in history. It's now one of the most popular curries in the world. 
Why should I make it from scratch?
Now, you could just go down to your local Indian takeaway and grab your tub with naan, but where's the fun in that? One of the best things about this curry is that it's actually easy to make and this version uses ingredients that can all be found in your local grocery store. So no need for hunting down obscure ingredients that you only use once and then leave in the back of the cupboard for years.  
What you'll need
Chicken: Here we've used boneless skinless chicken thighs but you can also use skinless chicken breasts if you have them on hand. 
Yogurt: Ensure you use plain natural or Greek yogurt for this dish. Mix all of the marinade ingredients into the yogurt before adding the chicken so you get even flavors throughout the chicken. 
Spices: Yes, plenty of premade butter chicken spice mixes and simmer sauces are readily available at the grocery store, but making your spice mix from scratch gives it that extra oomph you just can't beat. The combination of garam masala, cumin, turmeric, sweet paprika, cinnamon, and cayenne pepper is what makes this dish lip-smackingly good! It's a mild curry but if you want extra spice then feel free to add more cayenne pepper. 
Ghee: Ghee is essentially regular butter but with milk solids and water removed, which leaves behind pure butter fat. The only differences are that ghee has a more intense flavor and it won't burn on high heat. You can definitely use regular butter if you don't have access to ghee.
Fresh ginger and garlic: Many traditional recipes might call for a garlic and ginger paste, but finely grating fresh garlic and ginger will give you the same result. 
Tomato passata: This will give you the saucy base of the butter chicken sauce. You sauté this in the skillet to cook out any acidicness. 
Cashew nuts: The cashews add to the creaminess and thicken the sauce.  
Heavy cream: The cream gives the sauce that luscious silky texture and mellows out the spices. 
Basmati rice: Butter chicken is traditionally served with basmati rice on the side. 
Garlic naan bread: You can't go past the homemade naan bread recipe below. Serve the curry with rice and mop up the decadent sauce with naan for a restaurant-style dinner from the comfort of your own home. 
How to make butter chicken and garlic naan

Start your naan:
You'll need to leave this to proof for an hour, so start with this part first! Combine the sugar, warm water, and yeast then cover with plastic wrap and set aside for 10 minutes or until foamy. This step gives the naan a really fluffy texture and helps it bubble up when cooking. Once it's all foamy, mix it into the flour, yogurt, and salt and knead for 10 minutes or until your dough becomes shiny and smooth. Cover with a damp cloth so it doesn't dry out and set aside until it has doubled in size!
TIP: If it's a cold day put your dough into a bowl and cover it with a damp cloth, then place the bowl in your kitchen sink with some boiled water in it, this will create a warm bath for the bowl to sit in.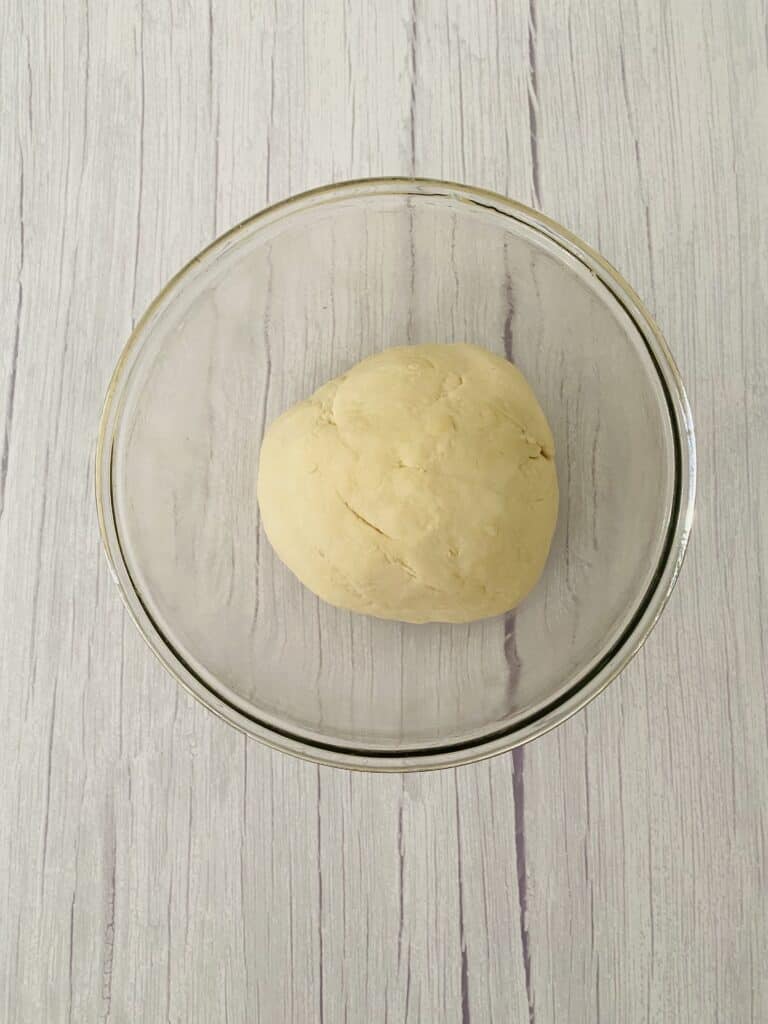 Once it has doubled in size, cut it into 4 equal pieces and roll into balls. Cover with a damp cloth and set aside for 15 minutes before rolling it out into your naans!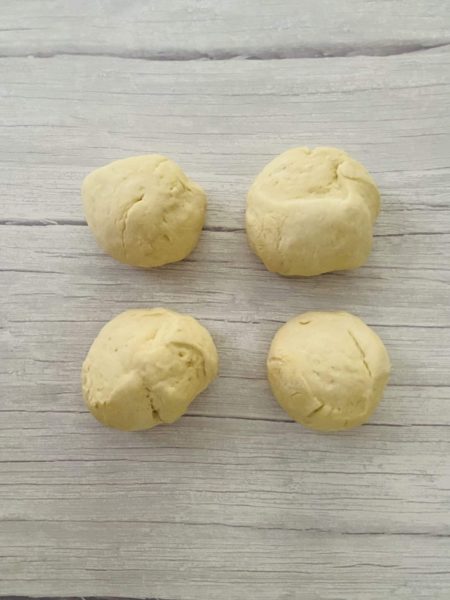 Marinate your chicken:
This step is essential to get flavor-infused tender chicken. We say to leave for 30 minutes but the longer the better! You can even prep ahead this step and do it the day before. It freezes really well also, so you could even make a double batch and pop the marinated chicken in the freezer for a quicker dinner next time.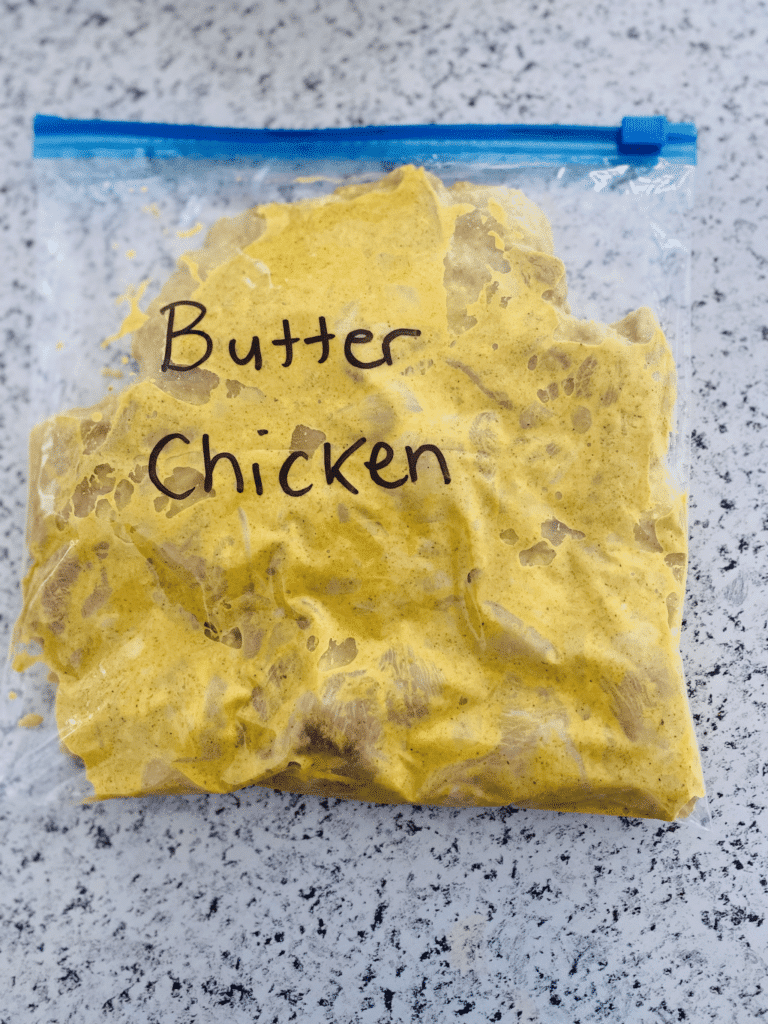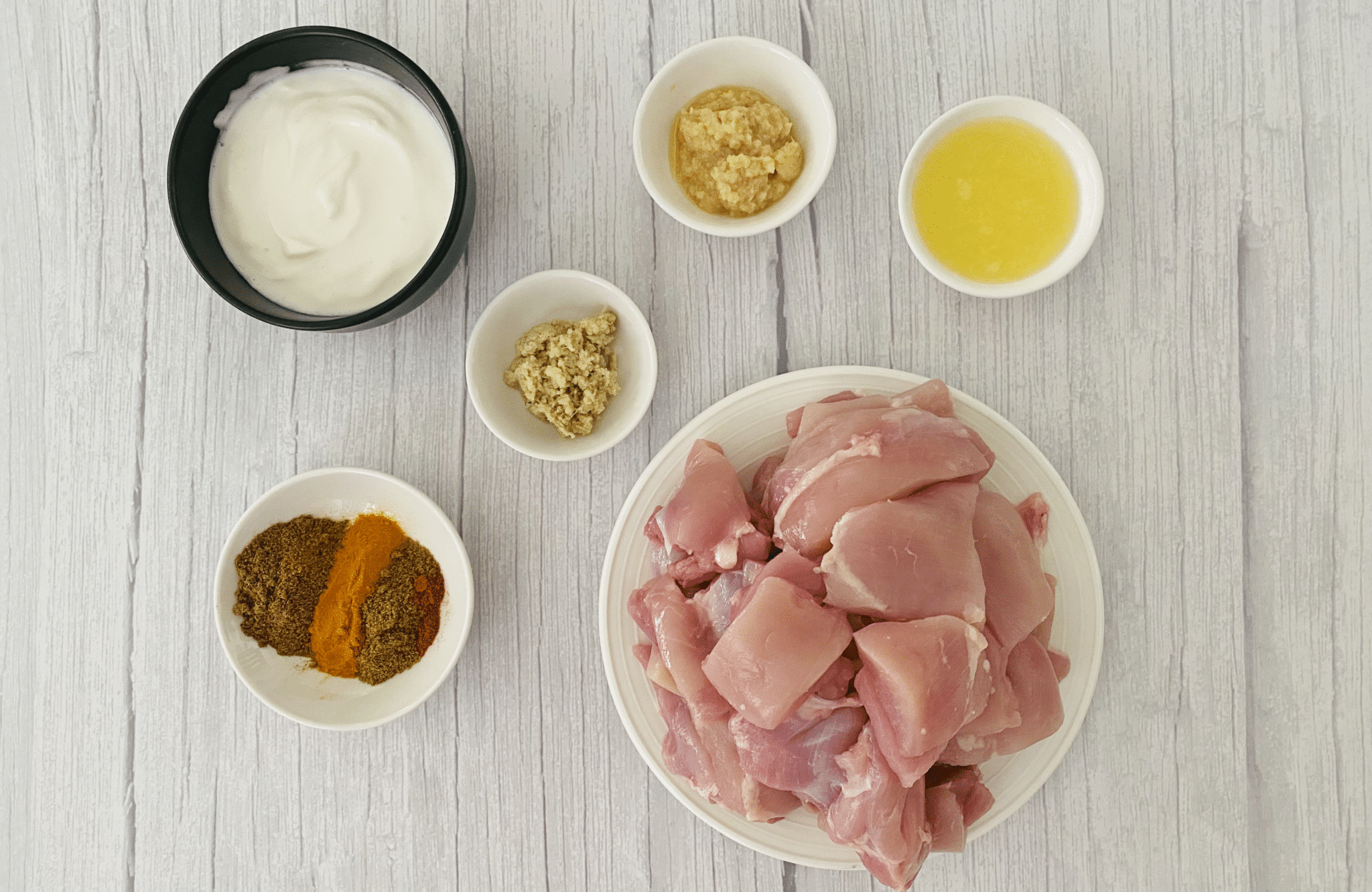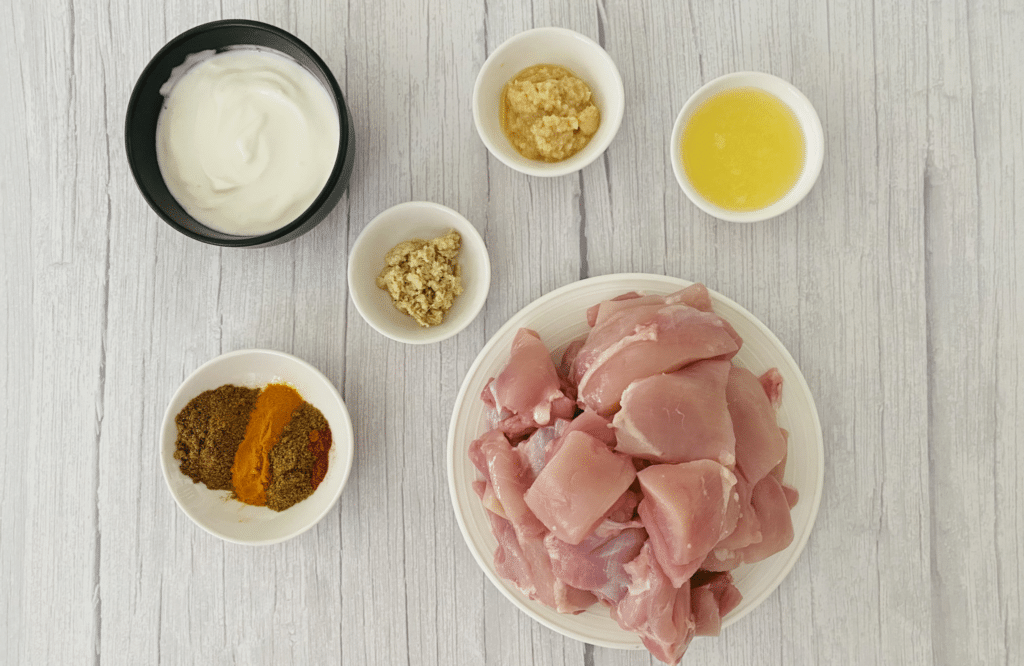 Soak your cashews:
Do this whilst everything else is coming together. 
Char your chicken:
This is the bit where your house will start smelling so flavorful that your neighbors will come knocking asking to join you for dinner! Cook the chicken in batches so you get that nice charred flavor. If you don't leave enough room in the skillet you'll end up with stewed chicken. 
Make your sauce!
Fry off all the aromatics and spices until they are fragrant. Then add the passata and cashews and let the flavors develop in the sauce. Blitz it all together and then add back to the skillet with the chicken, cream, ghee and sugar and simmer to finish it off.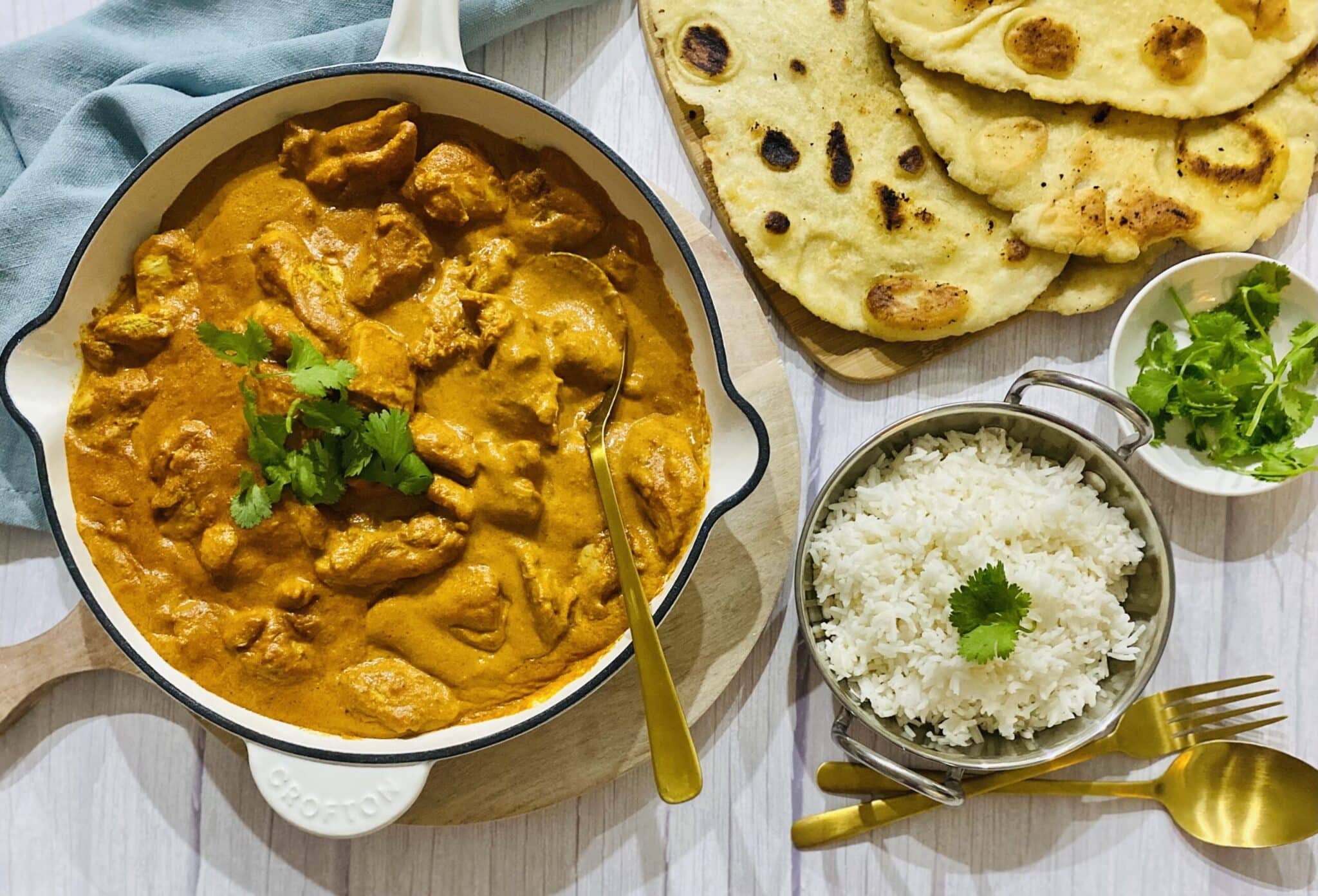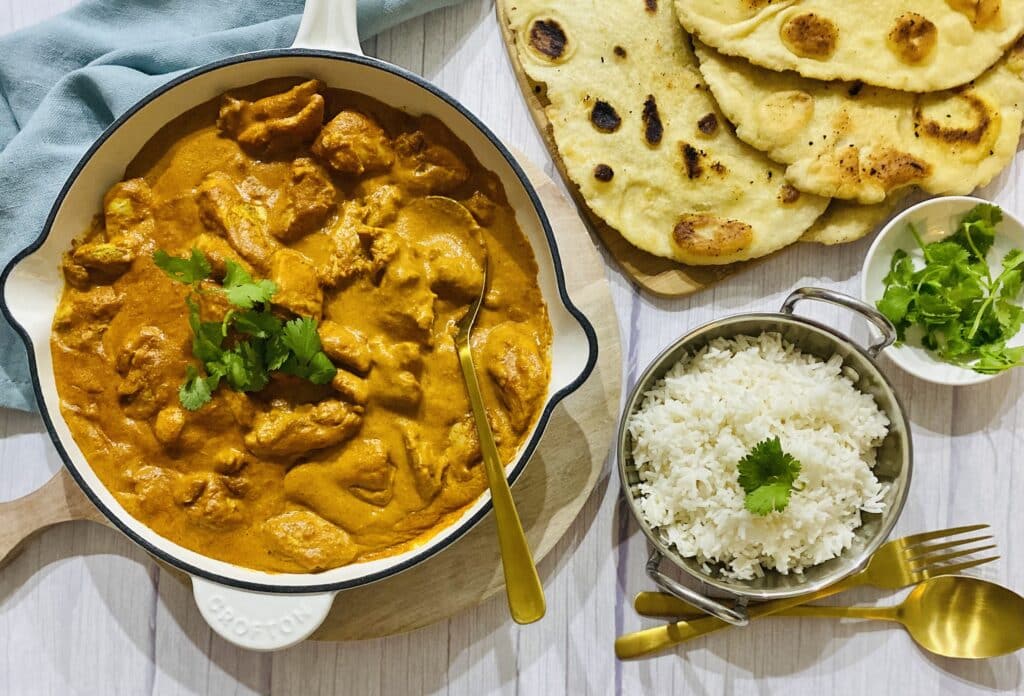 Source: Miche Bloch
Course: Main Course
Cuisine: Indian
Main Ingredient: Chicken
Prep Time: 45 min
Cook Time: 30 min
Total Time: 1 hr 15 min
Ingredients
700 g

chicken thighs cut into 2-inch pieces
1⁄3 cup unsalted cashews

4 tbsp

ghee

2

garlic cloves finely grated

2 tsp

finely grated fresh ginger

2 tsp

garam masala

1 tsp

cumin

1 tsp

sweet paprika

1 tsp

salt
1⁄2 tsp ground cinnamon
1⁄4 tsp cayenne pepper powder
1 1⁄2 cups tomato passata or puree

1 cup

basmati rice
3⁄4 cup heavy cream

1 tbsp

sugar
Marinade:
1⁄2 cup plain Greek yogurt

2

garlic cloves finely grated

1 tbsp

finely grated fresh ginger

1 tbsp

lemon juice

2 tsp

garam masala

1 tsp

ground turmeric

1 tsp

cumin
1⁄4 tsp cayenne pepper powder
Garlic Naan Bread:

1 tsp

sugar

100 ml

warm water

2 tsp

active dry yeast
2 1⁄2 cups plain flour
1⁄3 cup plain Greek yogurt
1⁄2 tsp salt

2 tsp

olive oil

1 tbsp

minced garlic

3 tbsp

ghee plus extra for greasing

2 tbsp

finely chopped cilantro
Directions
To make the naan bread, combine the sugar, warm water and yeast in a small jug. Cover with plastic wrap and set aside for 10 minutes or until foamy.
Put the flour onto a flat surface and make a well in the middle. Add the yeast mixture, yogurt, salt and oil into the well and combine to make a dough. Knead for 10 minutes or until the dough becomes smooth and shiny. Cover the dough with a damp cloth and set aside in a warm place to proof for 1 hour or until doubled in size.
Meanwhile, to marinate the chicken, combine the chicken and all marinade ingredients in a large bowl. Cover and set aside in the fridge to marinate for at least 30 minutes or overnight.
Place the cashews in a heat-proof jug and cover with boiled water. Set aside whilst the chicken marinates, then drain.
Add 1 tablespoon of ghee in a large skillet and heat over medium heat. Cook the chicken, in batches, for about 2 minutes each side or until charred but not cooked through. Transfer to a plate and set aside.
Add 1 tablespoon of ghee to the same skillet and heat over medium heat. Add the garlic, ginger, garam masala, cumin, paprika, salt, cinnamon and cayenne and cook for 1 minute or until fragrant. Add the passata and drained cashews and simmer for about 10 minutes or until flavor develops.
Meanwhile, cook rice as per packet instructions.
Cut the naan dough into 4 equal portions and roll into balls. Cover with a damp cloth and set aside in a warm place to rest for 15 minutes.
Transfer the sauce into a blender or food processor and blend until smooth (ensure the middle cap is removed so the steam can escape). If required, add ⅓ cup water or enough to help blend the ingredients together. Transfer back to the same skillet and heat over low-medium heat. Add the reserved chicken, cream, sugar and 2 tablespoons ghee to the sauce and simmer for 5 minutes or until the chicken is cooked through.
Place the garlic and ghee in a small bowl and microwave in small bursts until melted. Roll the dough balls into 8" rounds. Lightly grease a cast iron skillet with the extra ghee and heat over high heat. Brush each round with the garlic mixture. Cook one naan bread at a time, for 1 minute each side, or until bubbles appear and it's slightly charred. Brush the naan with any extra melted garlic mixture and sprinkle with cilantro. Serve butter chicken with naan bread and basmati rice.
Powered by