On any given warm, sunny day, the question, 'What do you have planned for dinner?' is usually followed by, 'Can we grill it?'
In anticipation of this enthusiasm, I take full advantage of grilling season by checking the weather report before planning the week's meals (pro tip)! When you have a ready and willing cooking assistant, why not?
From veggies to pizza to seafood and steaks, it all goes on the grill. Of course, the season isn't complete without a great crowd-pleasing burger!
This recipe is inspired by two popular grilled Argentine dishes – choripán (a spicy sausage sandwich) and provoleta (a grilled cheese appetizer). The flavors of fresh chorizo and melty cheese combine with elements of chimichurri for a multi-napkin burger that's become one of our favorites!
Gather Your Provisions
The pantry is our friend for simple flavor boosters. You'll likely have most, if not all, of those items on hand.
From the pantry or fridge:
Mayonnaise
Red wine vinegar
Dried oregano
Crushed red pepper flakes
Onion powder
Garlic powder
Kosher salt
Black pepper
Olive oil
Fresh ingredients:
Cilantro
Flat-leaf parsley
Fresh chorizo (not cured Spanish-style)
Grass-fed beef
Burger buns
Red onion
Provolone slices
Baby arugula
Let's Make Chorizo Burgers!
But First, Chimichurri Aioli
Chimichurri is one of my favorite condiments, but it takes a bit of time. Instead, we'll make a shortcut, deconstructed chimichurri aioli for our burgers. (If you'd like to make a whole batch of homemade chimichurri to put on EVERYTHING, check out this recipe.) 
Start with prepared mayonnaise and add red wine vinegar, cilantro, parsley, oregano and red pepper flakes. Season with salt, pepper, garlic and onion powders. Super simple. Keep this refrigerated until it's time to assemble the burgers.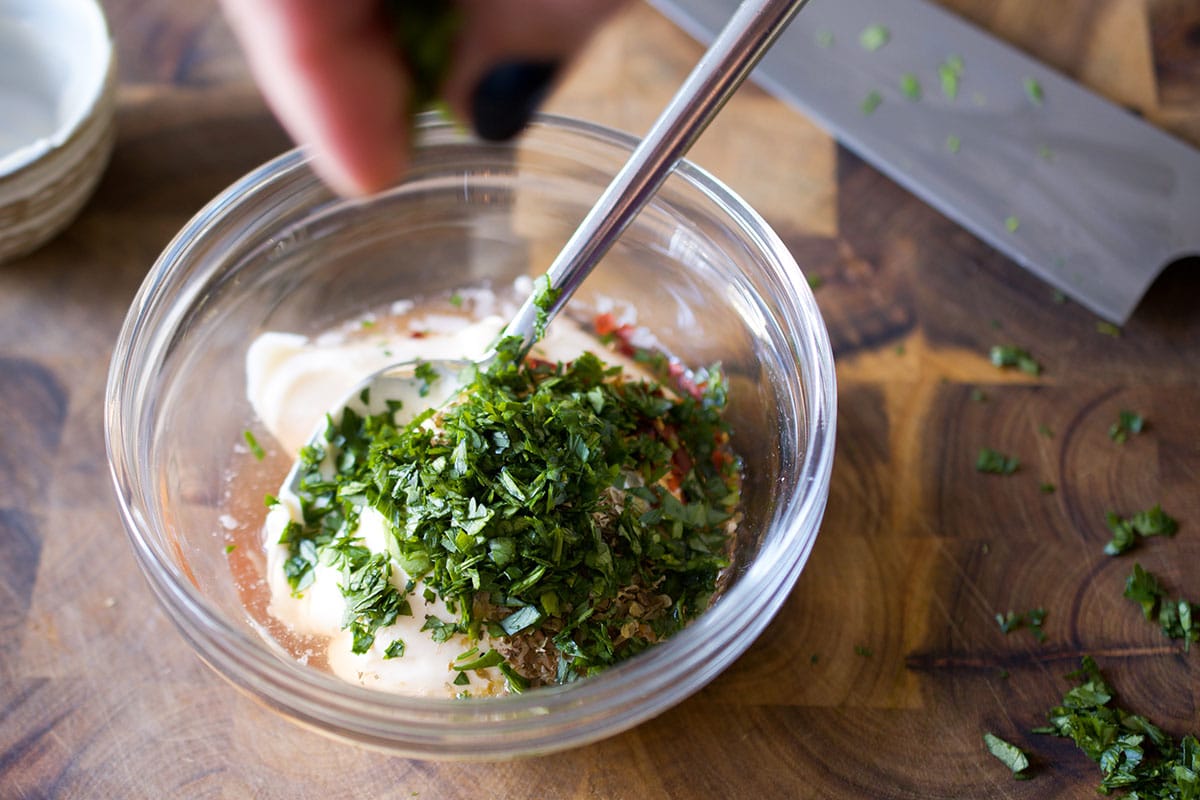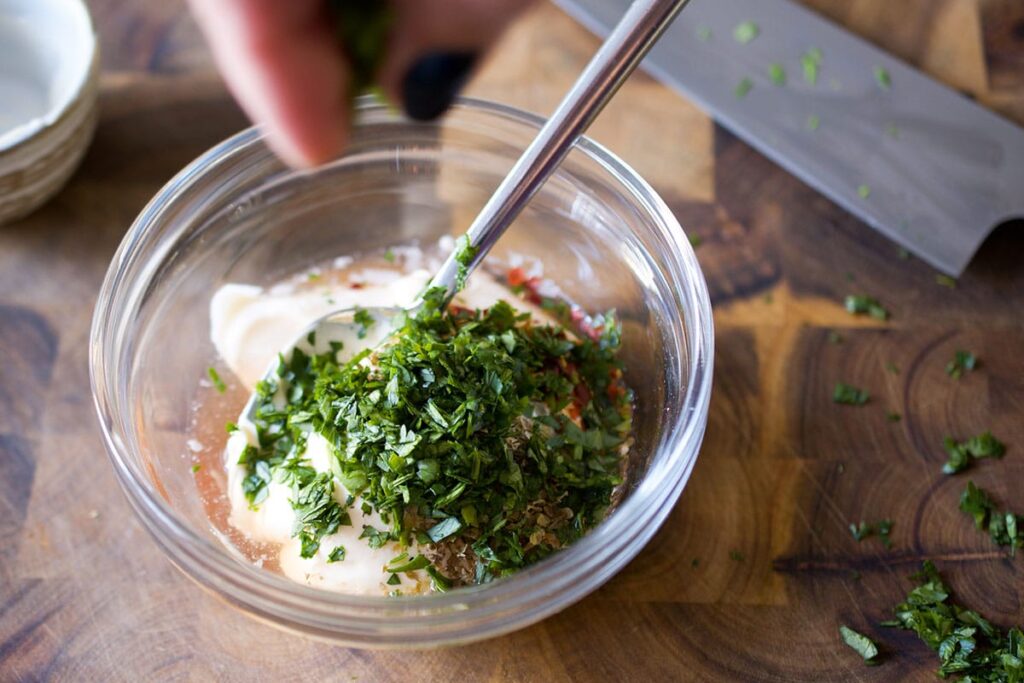 Mix the Burgers
Fresh chorizo is available in several flavor-styles (like Mexican, Salvadorian, Argentine, or generic pork chorizo), in mild and spicy versions, as well as poultry or pork-based. This recipe uses pork chorizo, but I think poultry sausage would work well, too. (For the love of all things burgers, avoid the really inexpensive 'chorizo' that comes in a giant tube.) If fresh chorizo isn't available in your market, go for andouille, Italian sausage, or even bratwurst.
A mix of chorizo and grass-fed ground beef makes for a nicely textured burger. Because the chorizo is blended with spices, the mix is simply seasoned with a little salt & pepper before forming into ½" patties.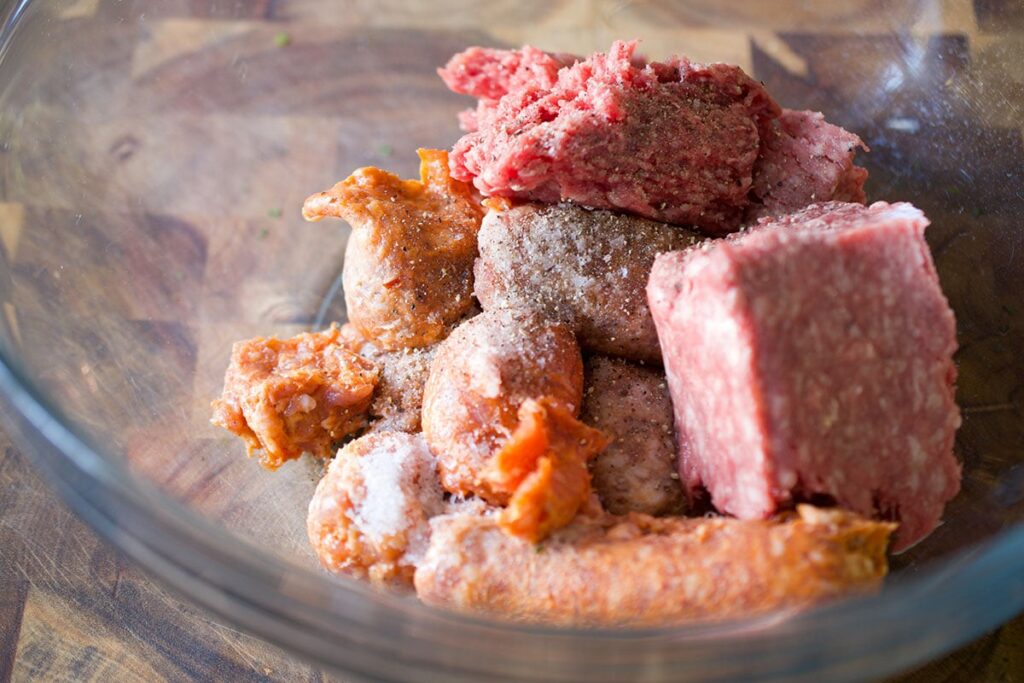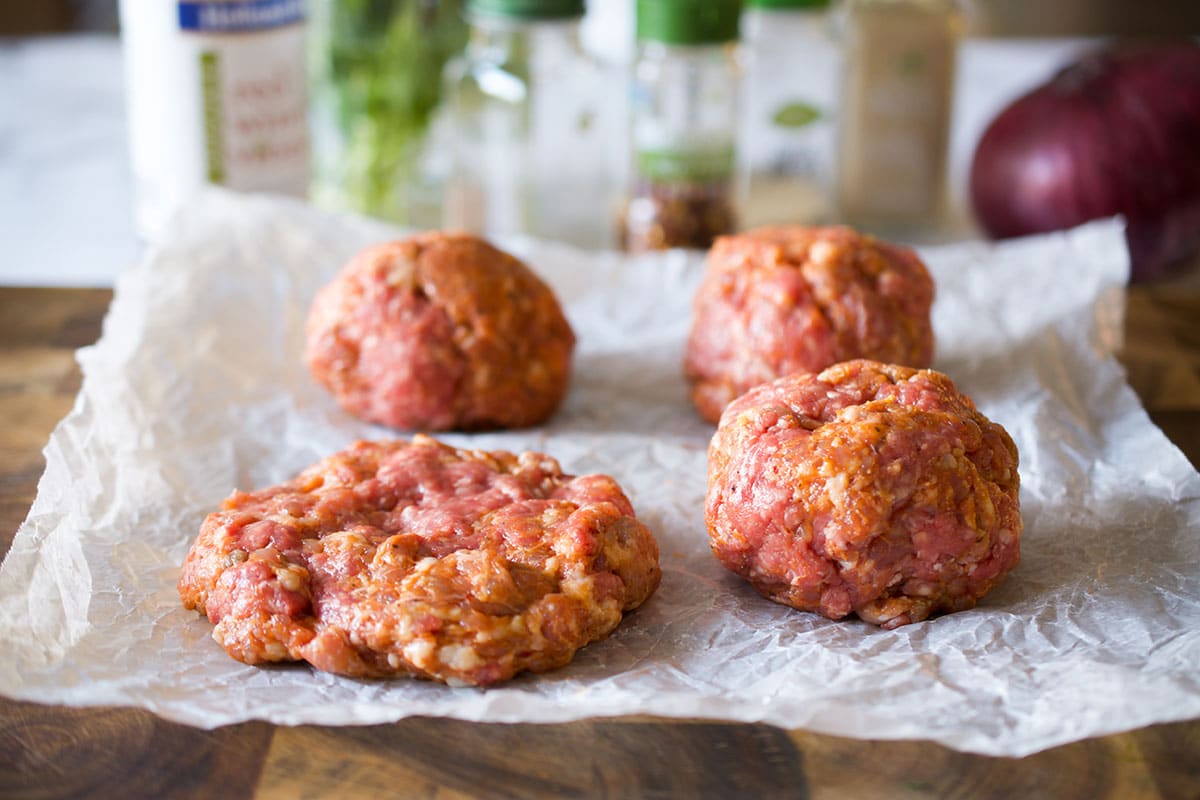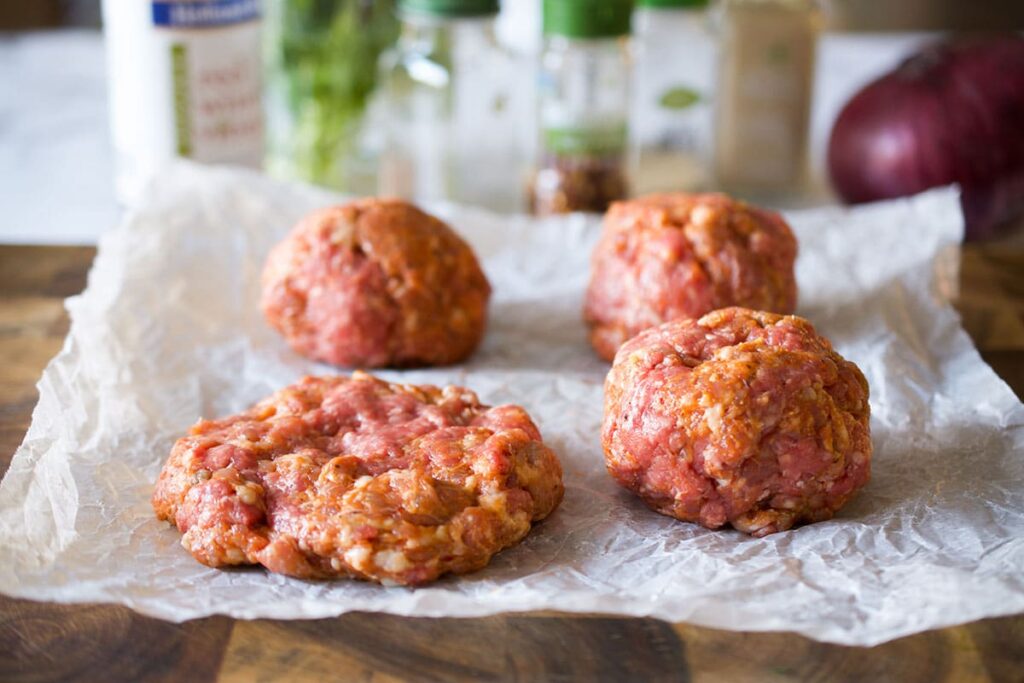 Prep the Extras
Brush burger buns with some olive oil and sprinkle with garlic powder for a little extra flavor. These will get toasted on the grill for soft buns with crispy edges. 
Thick slices of red onion also get a touch of olive oil and some salt and pepper. These will grill alongside the burgers until they're sweet and tender. If you'd like, skewer the onions to help keep them from falling through the grill grates.
Baby arugula is tossed with a bit of red wine vinegar and olive oil and lightly seasoned. Pop this back in the fridge until it's time to assemble.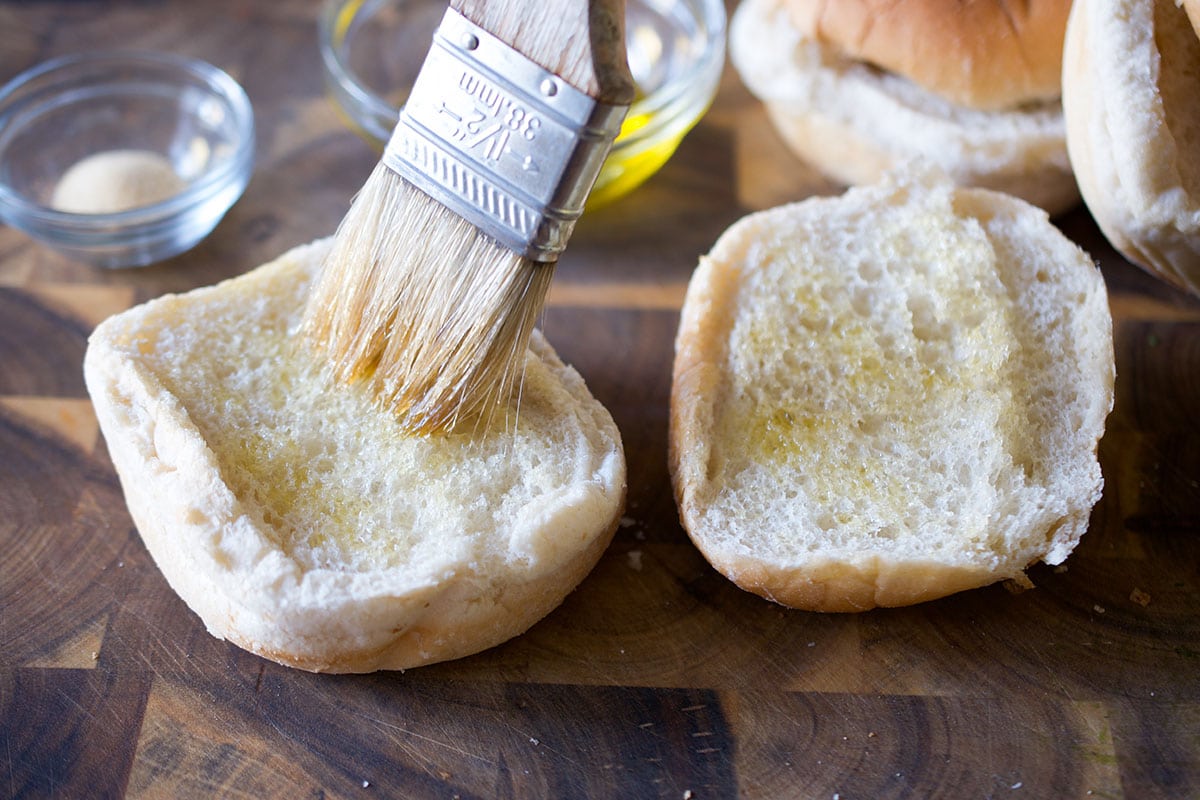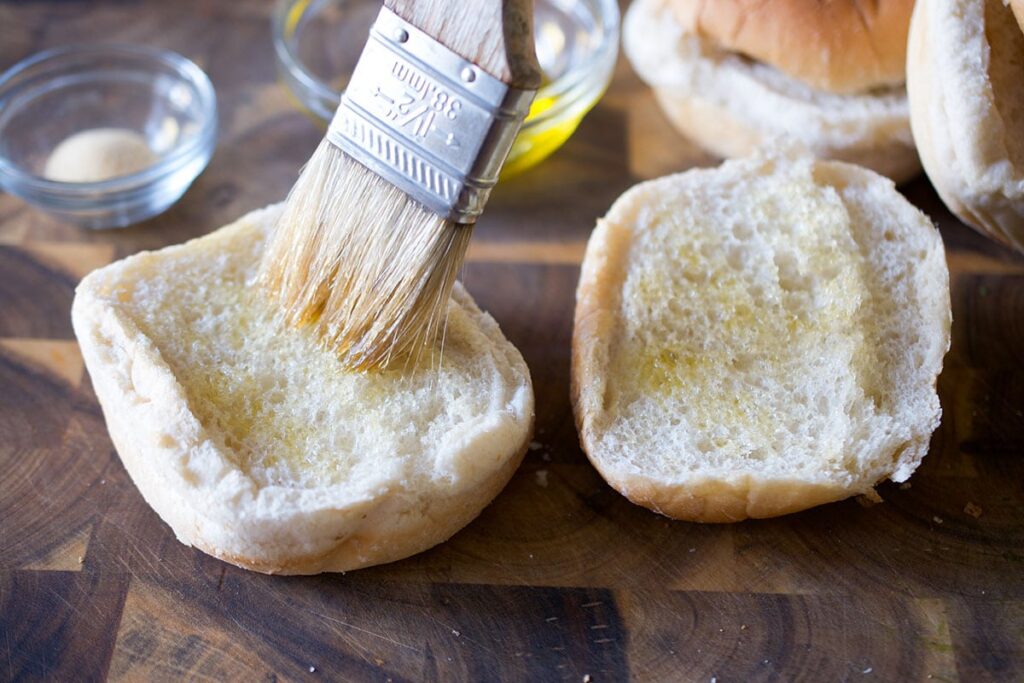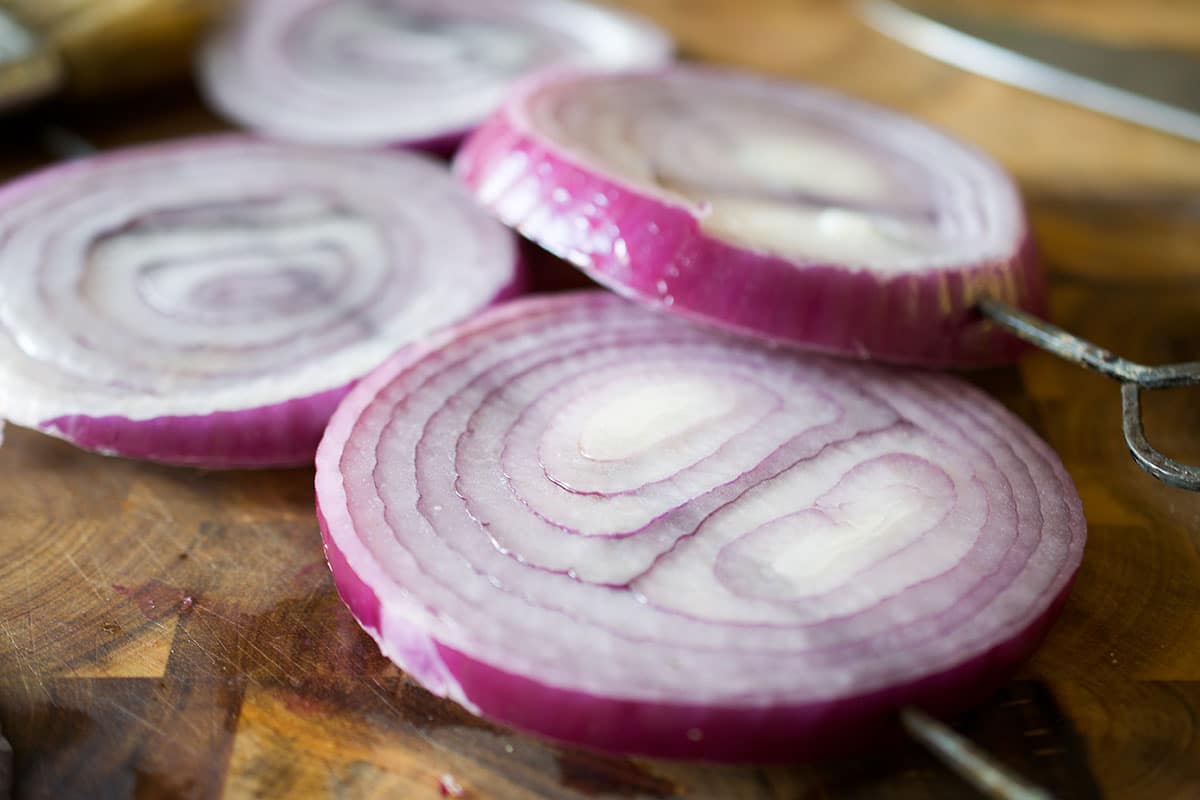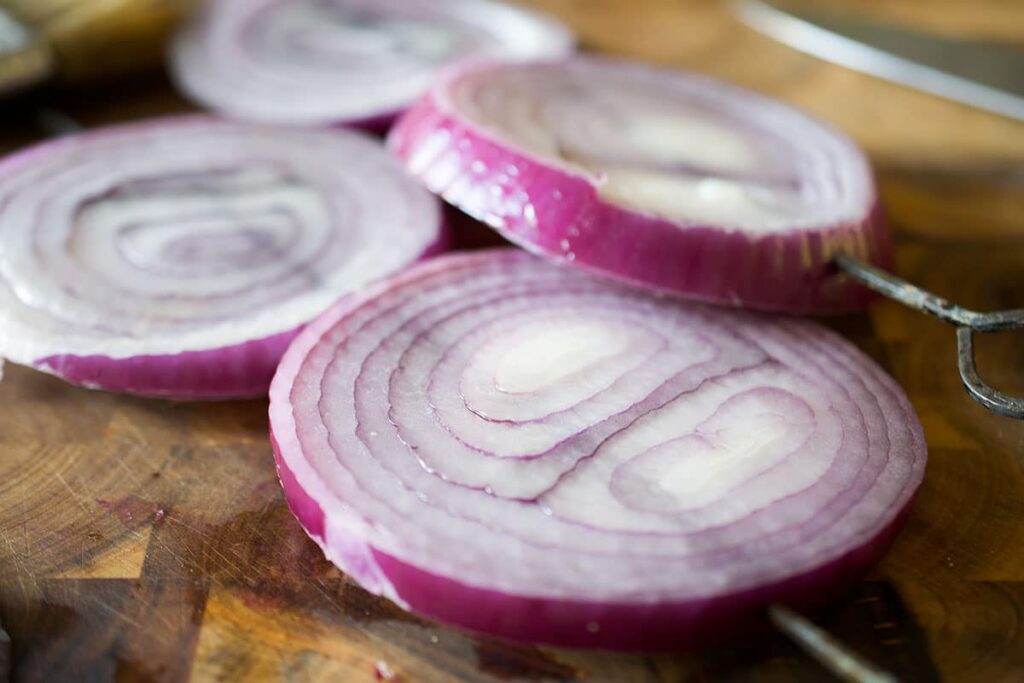 Time to Grill!
Preheat your grill on high, clean the grates and grease them. Place the red onions and burgers on the grill, reduce the heat to medium and close the cover. 
Grill the burgers for 8 to 12 minutes, flipping once. Unlike all-beef burgers, we'll want to cook these burgers until they are no longer pink. The fat content in the chorizo will keep them moist. 
After you've flipped the burgers (& onions), place the buns on any cooler section of the grill, oiled side down. Toast them for two to three minutes, then remove. During the last couple minutes of cooking, top the burgers with cheese to melt.
Assemble & Enjoy!
Slather chimichurri aioli on the top and bottom buns. On the bottom bun, layer dressed arugula, a chorizo burger, then grilled onions before closing it with the top bun.
Grab a giant napkin and take an equally giant bite!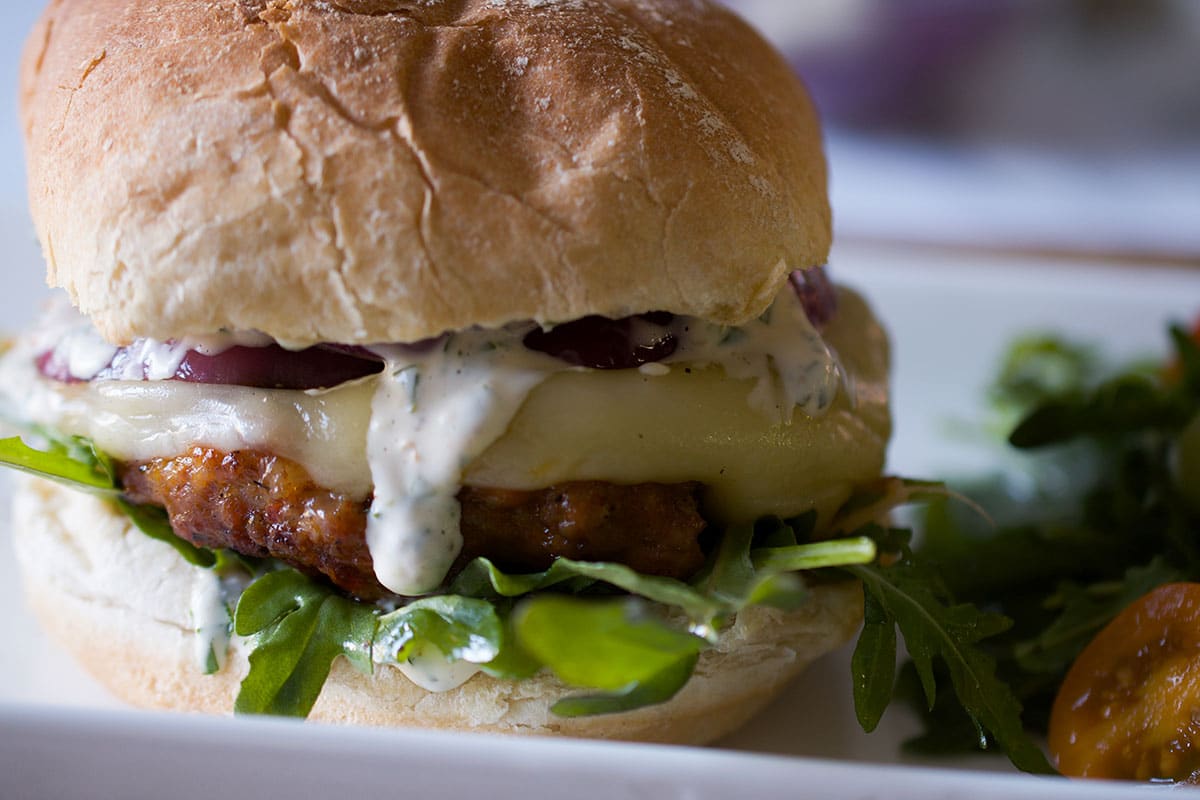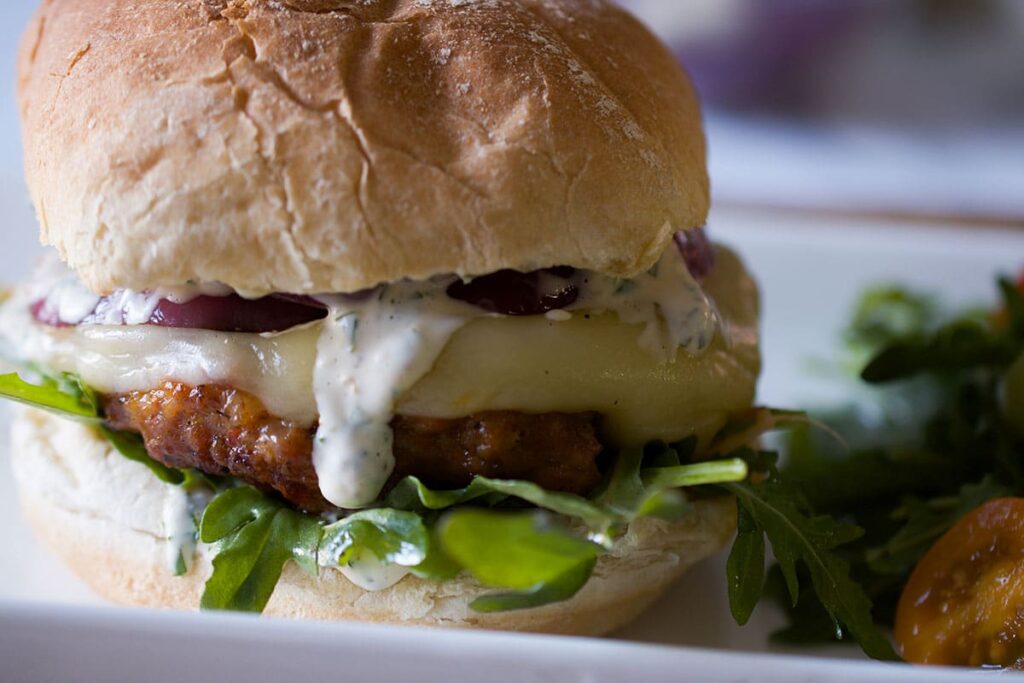 Linda Feller has been a Plan to Eat superfan since 2013 and will whip out the app to share with anyone who expresses the least bit of interest. She is a recipe developer, food photographer and the gal behind Sip + Sanity, a blog for recipes, entertaining and lifestyle. 
FB & Instagram: @sipandsanity 
Twitter: @SanitySip
Choripan and grilled provoleta are popular dishes in Argentina. Both have inspired this grilled burger that's become a new favorite in our home!
Source: Sip + Sanity | Linda Feller for Plan to Eat
Prep Time: 15 min
Cook Time: 12 min
Total Time: 27 min
Ingredients
Chimichurri Aioli

6 tbsp

mayonnaise

2 tsp

red wine vinegar

2 tbsp

fresh cilantro finely chopped

2 tbsp

fresh flat leaf parsley finely chopped

2 tsp

dried oregano
1⁄4 tsp crushed red pepper flakes optional or adjust as desired
1⁄4 tsp onion powder
1⁄4 tsp garlic powder
Chorizo Burgers
3⁄4 lb fresh pork chorizo sausage casings removed (I like spicy Argentine-style)
1⁄2 lb grass-fed ground beef
1⁄2 tsp kosher salt

4

burger buns (ex. brioche, Italian, kaiser)

2 tbsp

olive oil plus extra to drizzle on arugula
1⁄4 tsp garlic powder
Toppings

1 large

red onion cut into thick slices

8 slices

provolone

2 cups

baby arugula

2 tsp

red wine vinegar
Directions
Combine mayonnaise with 2 teaspoons of red wine vinegar, cilantro, parsley, oregano and red pepper flakes. Season with salt + pepper. Refrigerate until ready to use.
Preheat your grill (or grill pan).
In a large bowl, combine chorizo and ground beef with 1/2 tsp kosher salt + fresh cracked black pepper. Form into four equal patties about 1/2" thick.
Open the burger buns, brush the insides with olive oil, then sprinkle with garlic powder.
Brush the slices of red onion with olive oil and season with salt + pepper. (Optional: thread these onto skewers for grilling.)
Clean and grease the grill grates. Turn the flame to medium. Place the red onions on one side and the burgers on the other (leave enough room to toast the buns later). Close the cover and cook the burgers for 8 to 12 minutes, flipping only once, until they are just cooked through. Flip the red onions to caramelize on both sides.
After flipping the burgers, place the buns on the grill, oiled side down. Grill for a couple of minutes until they are just toasted. Remove to a platter.
During the couple minutes of grilling, top each burger with 2 slices of provolone to melt.
Meanwhile, toss the baby arugula with 2 tsp of red wine vinegar and drizzle with olive oil. Season lightly with kosher salt + pepper.
To assemble, spread chimichurri aioli on the top and bottom of each bun. Place arugula on the bottom bun. Layer with a chorizo burger, grilled onion, then the top bun.
Powered by