We all know the data: children that start their day with a healthy breakfast perform better in school. They are more focused, more even keeled emotionally, and have the energy to make it through the school day- as well as having the nutritional resources both to deal with stress and make the hormones they need. Most would agree that this school year, more than ever, it is important to provide our children with the foods that build a solid foundation – high in nutrient value and providing their organs of immunity the resources they need to perform well.
I'll come right out and say it: sugar depresses immune function. Throw out those sugary boxed cereals and bars and give your children a nourishing breakfast. Every day. Preferably at the same time of day. (Many early childhood teachers and certainly Waldorf teachers understand the importance of maintaining rhythm and constancy—that is, taking the guess work out of what and when a child will eat helps to calm down the nervous system.) If you must, set your alarm earlier in order to provide a calm breakfast time for you and your family, where your body is able to digest the food you are eating. (Digestion cannot happen when we are stressed out, running out the door, anxious, or in "fight or flight".)
Here are some ideas for you as we enter another school year.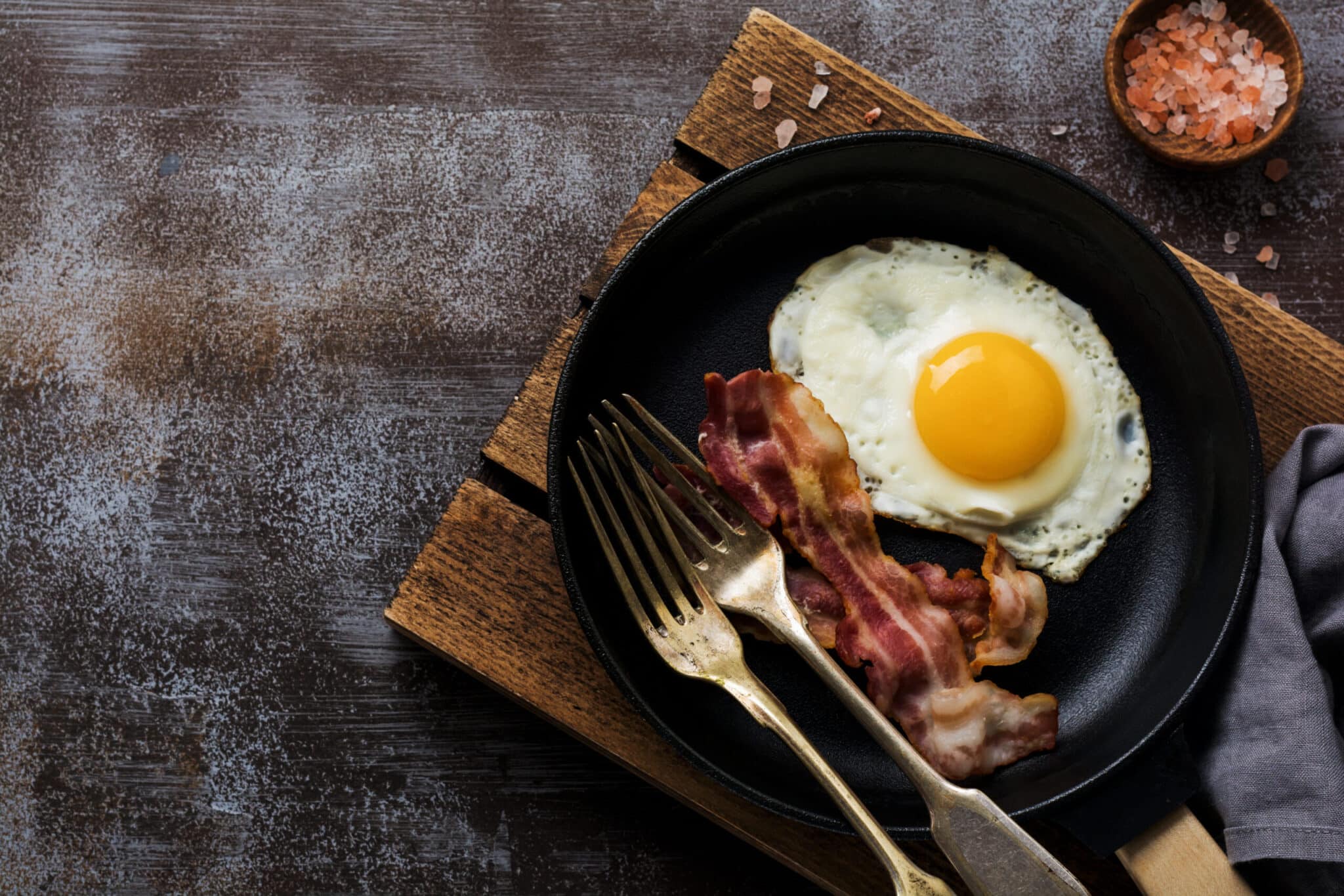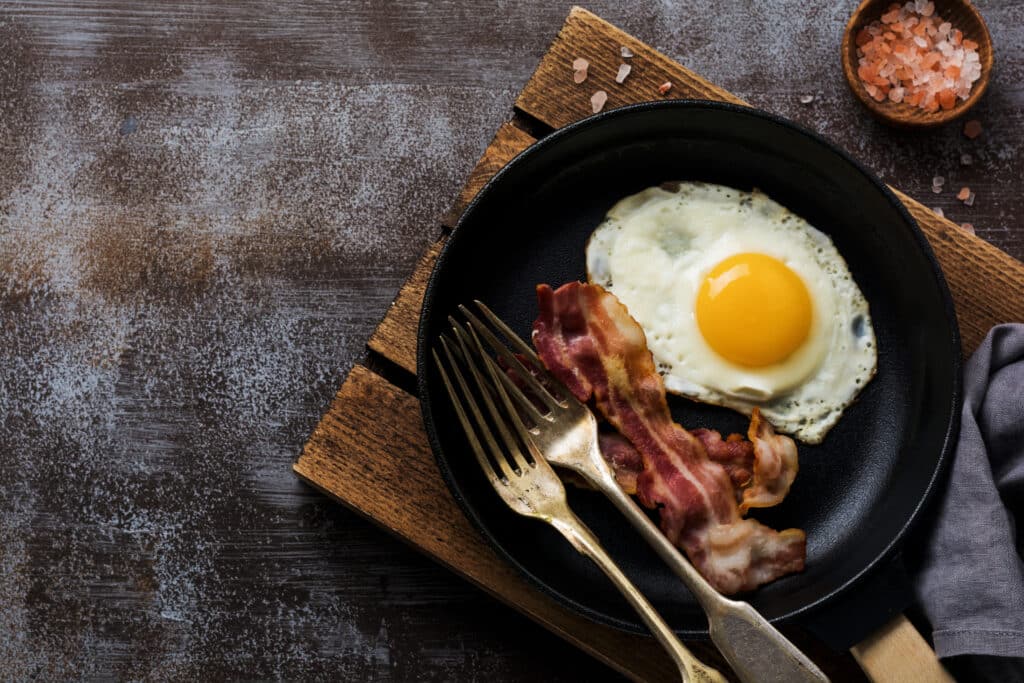 Eggs:
The highest quality you can find—preferably pastured and organic. Best from a farmer you know…or from your own chickens in your backyard! Eggs provide complete nutrition, and they are incredibly versatile. No reason to get bored with eggs! Scrambled, fried, omelets, frittatas…and so much more. Be sure to use healthy fats when you cook them: pastured butter, ghee, lard, duck fat, coconut oil…
Bacon:
Must be from a clean source; we know by now that fat stores toxins, so if you are purchasing conventional bacon, you are giving your child toxins on a plate (Bad idea.) Best bacon will be from a farmer you know. Next best: bacon from pastured pigs, with no GMOs or soy in their feed. No nitrates or nitrites (celery seed okay).
Sausage:
Again, must be from a clean source for the same reason as bacon above. Best: make your own, from clean ground pork. Easy, fast, and inexpensive compared to store-bought. Recipe follows. Next best: store-bought, from pastured pigs. No GMOs or soy in feed. No sugar added!
Soaked pancakes:
For those who eat grains. If you are going to eat grains, I strongly suggest you do not eat wheat, due to its high glyphosate content. Also, who needs the gluten? Use oat, buckwheat (not related to wheat), or spelt. Best: organic grains you mill yourself. Next best: organic flour you purchase in small quantities in dark packages (to help minimize rancidity caused by light and air). See my previous blog for healthy pancake recipes!
Make a bunch at once and store the extras in the refrigerator. Leftovers can be easily popped into a warm oven for a few minutes for breakfast later in the week. Make a batch silver dollar sized and crisp them in the oven to use as crackers. Soaking (fermenting) grain will predigest the protein and the sugars, so no worries about a blood sugar crash. Be sure to serve them with pastured butter or cream cheese (make your own from dripping yogurt!) or homemade fruit "syrup", instead of maple syrup. Recipes below.
Nut or seed flour Pancakes or Waffles:
For those of you who don't eat grains (and there are many of us these days), or those who would like to "mix it up" nutritionally, consider this high protein option. Remember that nuts and seeds are protein, and protein is a necessary nutritional building block for all bodies. Best: fermented nut or seed flour. Next best: nut or seed flour. Serve with pasture butter or cream cheese…
Time saving technique: make a large batch so that you can freeze a bunch (pop in the toaster or oven to warm up!). Find the recipes in my previous blog on nut and seed pancakes.
Soaked Oatmeal:
Delicious, nutritious…easy to digest and grounding. Best: organic, rolled oats. (You can look for "gluten-free" on the label if desired; oats do not contain gluten, so "gluten-free" ensures the oats have not been contaminated with it.) Don't bother with "quick oats", or those single serve packages that are loaded with sugar and extremely expensive per unit! Oatmeal in the morning is great for all those children who are popping out of their seat – literally or mentally. (See more about "The Grounding Diet".)
Oatmeal that is soaked overnight or longer and served with plenty of healthy fats – pastured butter, coconut oil, fresh, raw cream, whole coconut milk, or a combination – will keep children satisfied until lunchtime, with no blood sugar crash. Find the recipe for homemade oatmeal in my previous article.
You can also make a double or triple size batch, store it in the refrigerator, and then add boiling water to heat a serving as desired. A truly fast food. Soaked oats are the foundation of making your own…homemade cereal below.
Homemade Cereal!
Yep, homemade. (If you would like to know more about why I cannot recommend the vast majority of cereals sold in stores for breakfast or any other meal, see my article "Boxed Cereal is not Food".) Homemade cereal is easy to make – yes, it takes a bit of time, but if you know how to make soaked oatmeal, (above) it's a breeze. Make a double batch and store in your pantry when you need a quick breakfast, or a healthy after school snack. When served with fresh, raw milk or cream, and add a handful of raisins, you've got another winner.
Yogurt Parfait:
This breakfast is fast and easy, and packed with calcium, protein, and healthy fat. Make your own yogurt and add fresh or frozen organic blueberries (love those antioxidants and vitamin C), chopped up crispy nuts or seeds, and some shredded coconut if you like (high in immune boosting lauric acid).
Shakes:
I am not a big proponent of shakes for breakfast, as they are very cold and cold food is challenging for any digestive system—and all digestive systems early in the morning! (Our digestive fire is strongest in the middle of the day, around noon.) However, if it is between making nutrient-rich shake and not eating at all, I vote for the shake! Add a few egg yolks from pastured hens, a tablespoon or two of nut butter and a few of whey, a tablespoon or so of coconut oil, along with a handful of berries (low sugar best—blueberry, blackberry, etc.) and homemade yogurt, and you've got a solid breakfast idea for when you are on the run.
Note: it is very important to limit the amount of fruit you put in a shake; you don't want a blood sugar crash. Half a banana is always enough; a handful of berries plenty.
Hopefully, that gives you some ideas to fill your child's nutritional pantry before the set out the door this school year!
Here are some recipes: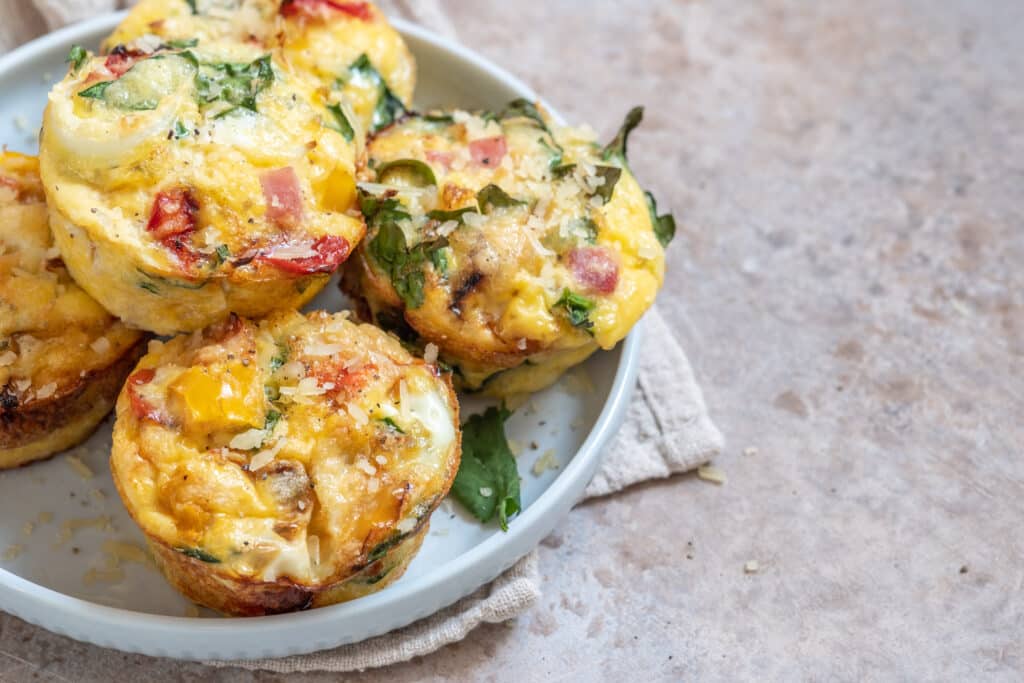 Source: Monica Corrado
Course: Breakfast
Main Ingredient: Pork
Ingredients
1 pound

ground pork organic or sustainably raised

1 tablespoon

dried sage organic

2 teaspoons

dried oregano organic

1 clove

garlic organic, peeled and mashed in garlic press
1⁄2 teaspoon sea salt
1⁄2 teaspoon freshly ground black pepper

1 teaspoon

lard pastured or sustainably raised, ghee or butter
Directions
Mix first six ingredients in a medium bowl, and form into patties.
Melt fat in large (12 inch) cast-iron skillet or sauté pan over medium heat. Add patties.
Cook for 4 minutes on each side, until juices run clear.
Powered by

This recipe requires a double batch of homemade oatmeal. Inspired by a recipe by Suzanne Gross and Sally Fallon Morell in The Nourishing Traditions Cookbook for Children. Makes about 3 cups.
Source: Monica Corrado
Ingredients
2

batches homemade oatmeal still hot

1 stick

pasture butter (8 tablespoons) (can substitute coconut oil or a combination)
1⁄4 cup maple syrup grade B best
1 1⁄2 teaspoons vanilla extract

1 teaspoon

cinnamon
1⁄4 teaspoon ground ginger
Directions
Preheat the oven to 200°F/93°C.
Line two baking pans with parchment paper.
Add all ingredients into the pot of hot oatmeal and stir well to melt the butter and combine.
Ladle equal amounts of oat mixture onto the two baking pans. Spread out evenly with a wooden spoon.
Bake in the oven until crisp, about 9 – 10 hours.
When cooled, break up with your hands or place in a food processor in batches, and pulse to get the size
of cereal you desire.
Store in a jar in your pantry.
Serve with raisins and nutritious whole raw milk.
Powered by

Source: Monica Corrado
Ingredients
1 1⁄2 cups berries fresh or frozen

1 tablespoon

maple syrup
1⁄2 teaspoon vanilla extract
Directions
Puree berries in food processor.
Strain out seeds.
Stir in other ingredients. Store in a jar in the refrigerator
Powered by

I love these "frittata muffins". They are easy to make and great to have around for high protein, delicious snacks. Keep them in the refrigerator or make enough to freeze. A few minutes in at 300°F/148°C oven will take off the frost; or eat them cold. Yes, they are that yummy and versatile!
Source: Monica Corrado
Course: Breakfast
Main Ingredient: Eggs
Yield: 12 muffins
Serves:
Ingredients
2 cups

fresh organic spinach chopped and packed (can substitute chard if desired-no stems)

2 tablespoons

basil parsley, thyme, or a combination, organic, chopped fine (if dried, then 2 teaspoons)

2-3 cloves

organic garlic minced

8

pastured, organic eggs
1⁄4 cup raw milk or whole, organic, pastured milk, not UHT

1 teaspoon

sea salt
Freshly ground black pepper to taste
1 1⁄4 cup grated organic cheese such as cheddar or Parmesan, divided
Paprika (optional)
Directions
Prepare muffin tin with liners.
Preheat the oven to 350°F/176°C. Check to be sure the racks are in the middle of the oven.
Whisk eggs in a medium bowl. Add salt, pepper, garlic, and herbs, and whisk to combine. Add spinach and stir to combine. Add half grated cheese. Stir to mix well.
Use ¼ cup dry measure to ladle equal amounts of egg mixture into muffin tins. Top with remaining grated cheese. Sprinkle top with paprika (optional).
Pop into the oven and bake until done, about 20 minutes.
Note: if you don't want to use liners, use a cast iron muffin tin and be sure to grease it very well-with lard or pasture butter or a combination.
Note also: you may substitute frozen, organic chopped spinach. Take out of the freezer and place in a strainer. Over the sink, pour hot water over the spinach. Allow to cool to room temperature. Squeeze out the water in the spinach and use in recipe.
Powered by

Monica Corrado, MA, CNC, CGP is a teaching chef, Certified Nutrition Consultant, and Certified GAPS Practitioner who is passionate about illuminating the connection between food and well-being. A member of the Honorary Board of the Weston A. Price Foundation for almost 20 years, Monica is a dynamic teacher, speaker, consultant, and author who lives to share the tools, knowledge and inspiration to cook nourishing, traditional food. Monica is also The GAPS (Gut and Psychology Syndrome™) Chef", and teaches cooking for the GAPS diet for Dr. Natasha Campbell-McBride's GAPS Training team.
www.simplybeingwell.com
FB: Simply Being Well: Cooking for Wellbeing
Twitter: @simplybeingwell
IG: mcsimplybeingwell

The views, opinions, and content in this article are those of the author, and do not necessarily represent the views, opinions, or policies of Plan to Eat.