It's week four of 2021! The beginning of a New Year is an exciting time as we all focus on goals and resolutions. We're focused on keeping our meal plans interesting and fun as we make our way into 2021!
Today, we'd like to introduce you to the NEW Random Recipe button, to keep your meal plans Exciting!
Whether you've used Plan to Eat for years, or are just starting out, you may feel like your creative juices are not always flowing when it comes to creating a meal plan. Many of you have amassed hundreds of recipes in your account and there are simply too many recipes to choose from. Or perhaps there are some weeks when you don't want to browse through your recipe book, but just plan quickly and go.
It's easy to plan the same recipes over and over because you know your family likes them and they are simple to prepare. Even when you have the best tools at hand, meal planning fatigue is still possible.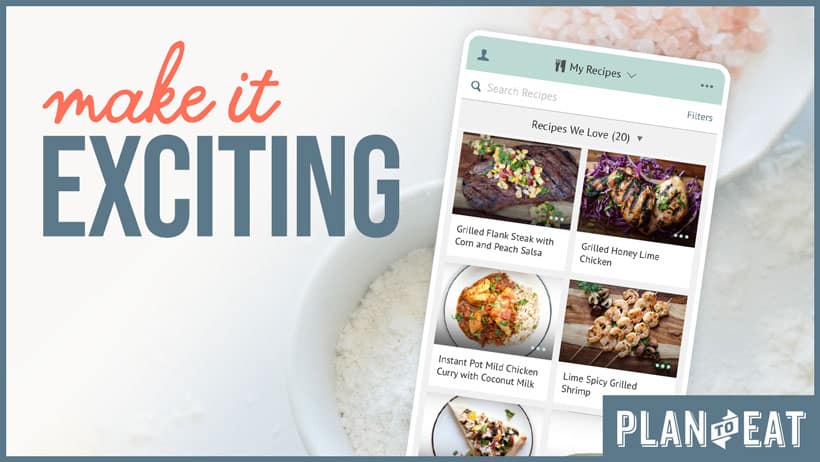 We added the Random Recipe button to help when you need a little break from thinking about what to plan, or when you want to add some excitement to your meal plans! This option allows you to add some spontaneity and excitement to your meal plans by randomly generating a recipe for you! You might find recipes you've long forgotten about, or be reminded of some all-time favorites. 
You'll find this button at the bottom of the search and filtering options on the website Recipe Book. You can simply press the button and a completely random recipe will be selected from your entire recipe collection. Or you can apply any filtering options and then the random recipe will be chosen based on that criteria. 
If you've found yourself in a meal planning rut, the Random Recipe button is sure to break you out of it!
Stay with us for one more week as we help you freshen your meal plans and start the year off with some new tools!
If you have questions, email us at [email protected]