Back in May, we updated our site with a new coat of paint.  Since then, we have been hard at work on updating the desktop recipe book so it is even easier to manage your recipes. Our primary goals with these updates are to:
Improve the transition between the mobile and desktop recipe book.
Declutter the existing recipe card view while also offering more functionality.
Add a brand new Spreadsheet View for power-users, with the long term goal of providing a bulk editing interface so changing the course, tag, etc for multiple recipes is just a tap away.
  Recipe Card View (updated)
We took a cue from our app and updated the recipe cards so the recipe name is easier to see and the cards are less visually cramped with information and cluttered with repetitive buttons.
We replaced some of the existing buttons/icons on the recipe cards with a ••• menu so you can quickly access all of the recipe actions without having to view the recipe.
When you tap the ••• menu you can now edit the recipe and the updated Add to Planner option will open a small calendar with (a much requested) meal time selection for Breakfast, Lunch, Supper and Snacks! We still include a few quick toggleable icons on the recipe cards like the Queue,  Private and the  for saved friend's recipes.
  Spreadsheet View (new!)
One of the most notable changes is a new spreadsheet view for your recipes. We think this spreadsheet view will help you navigate and manage your recipes more efficiently.
Some things you can do with the new Spreadsheet View:
While the spreadsheet view includes all of the same info on the recipe cards in a tabular format, it also includes Total Time, Course, Cuisine, Main Ingredient and Tags. We also display the Created At column when sorting by Recently Created and the ingredient search results when searching by ingredients.
Quickly sort your recipes by most column headings by tapping the heading title.
Easily tap the Edit Recipe icon to edit the recipe, or the Plan Recipe icon when viewing your Queue or Freezer. And similar to the recipe cards, you can still easily access the Queue, Private, and ••• menu to access all actions.
Easily rate your recipes by tapping on the star rating.
Tapping on any category for a recipe (like Source, User, Total Time, Course, Cuisine, Main Ingredient and tags) will filter your recipes by that category.
Bulk Editing Recipes (coming soon!)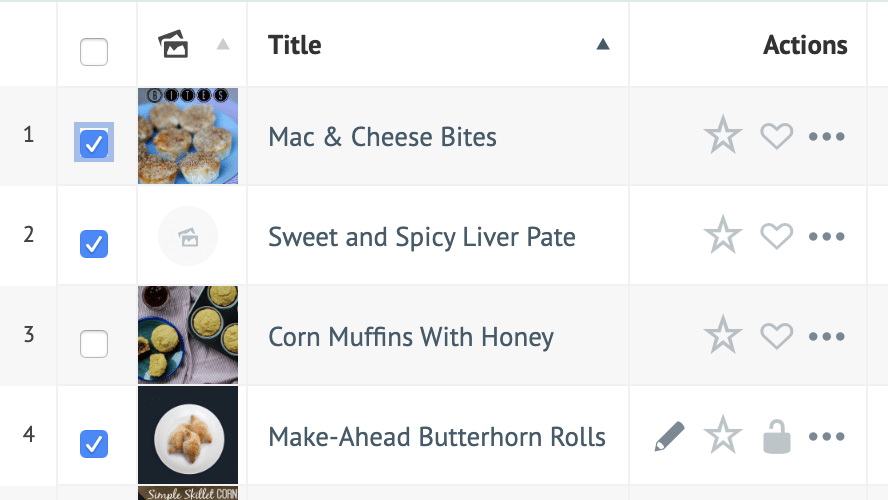 The updated spreadsheet view paves the way for us to add an upcoming (and highly requested) bulk editing recipes feature. The feature will allow you to select multiple recipes and change different recipe taxonomies like the rating, source, total time, course, cuisine, main ingredient and tags. You will also be able to use most of the existing recipe actions on multiple recipes, like private, queue, remove, etc. We also have tons of other interesting plans for this upcoming feature that will even help you print a cookbook!  
Here's a quick breakdown of a few other changes you may notice as you're navigating the website:
We added the Freezer to the Recipe Book sidebar menu.
On frozen recipes, we added an "Edit Frozen Quantity" option in the ••• menu. We also added a "Remove from Freezer" button so you no longer have to change the "meals in your freezer" to zero to remove it from your Freezer.
For recipes that are saved from a Friend or Challenge, the average rating is now displayed on the recipe card below your personal rating. 
If you normally use the Plan to Eat Mobile App and haven't checked out our desktop app in a while, now is a great time to login at www.plantoeat.com and see what's new!
We hope you really enjoy and benefit from these updates! And as always, if you have questions please email us at [email protected].
Mobile App News:
We have also been busy improving our mobile app! Here are a few notable updates to our Mobile app in the past few months.
The Plan to Eat Freezer: Freezer cooking on your phone has never been this easy!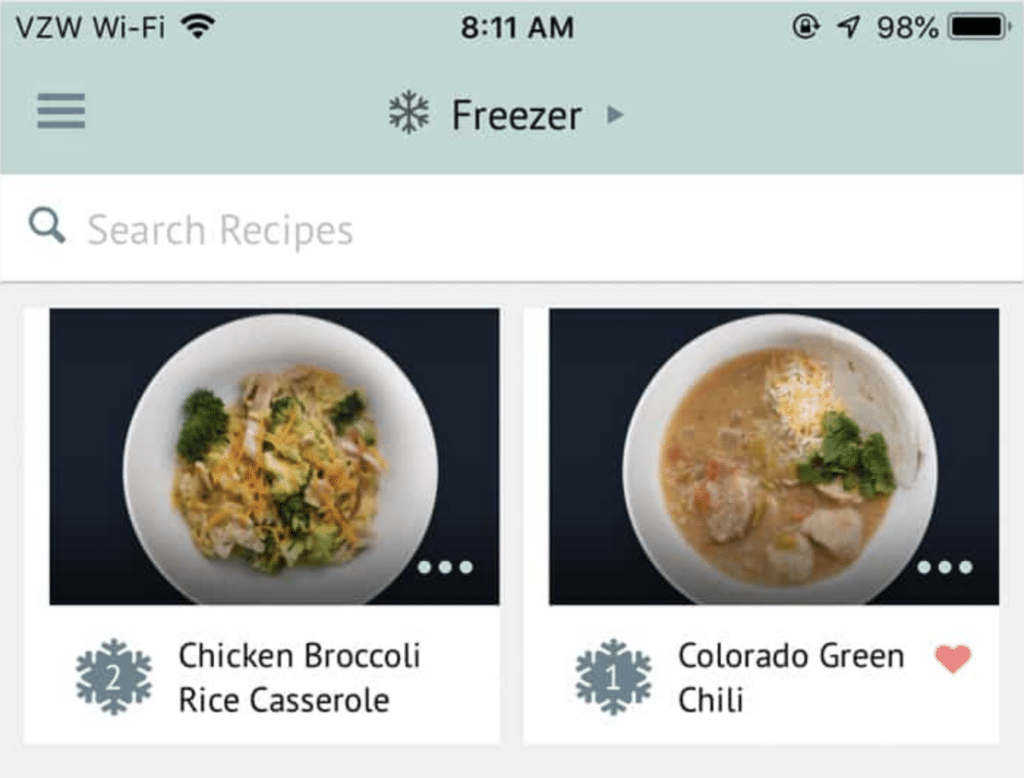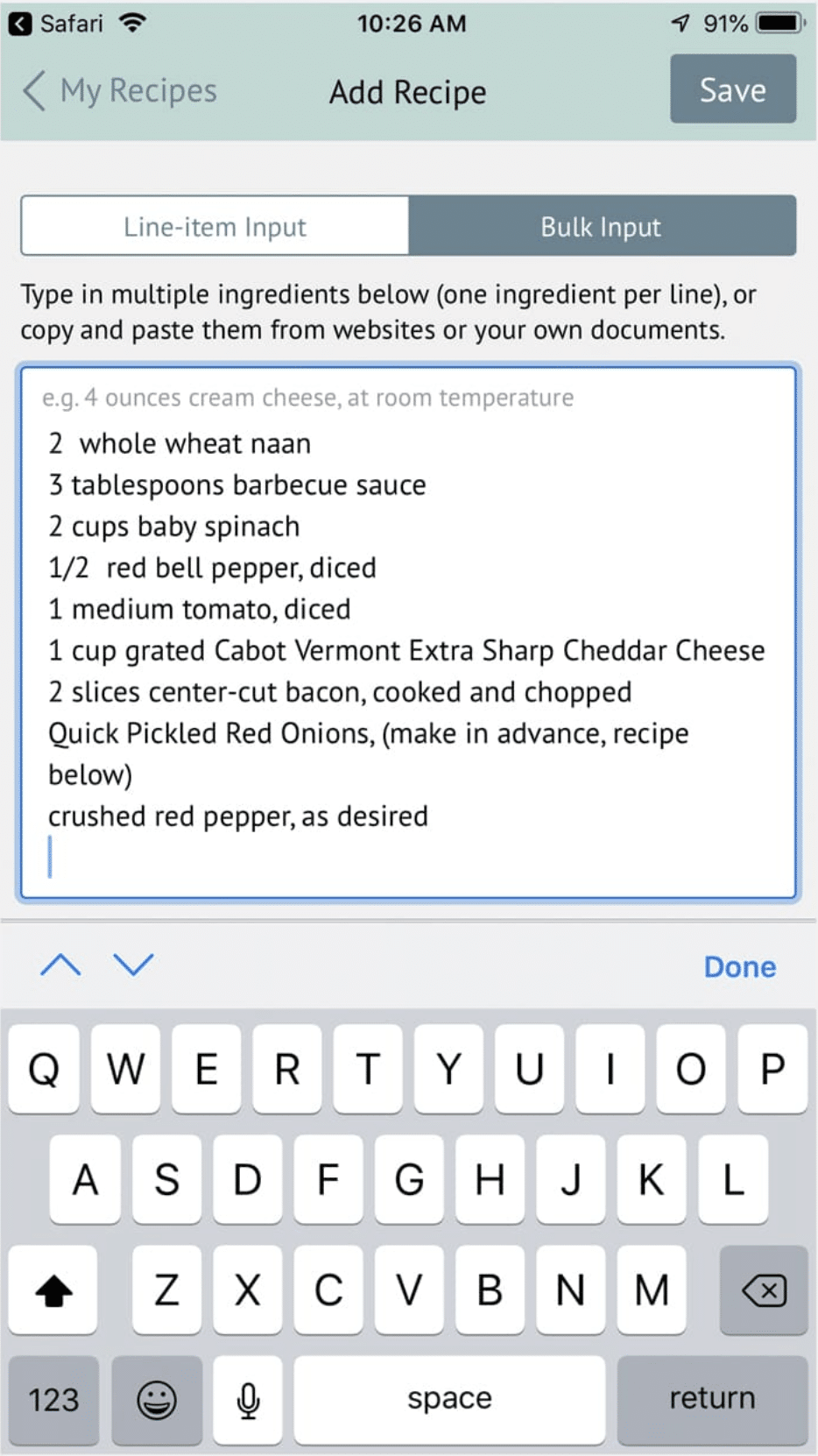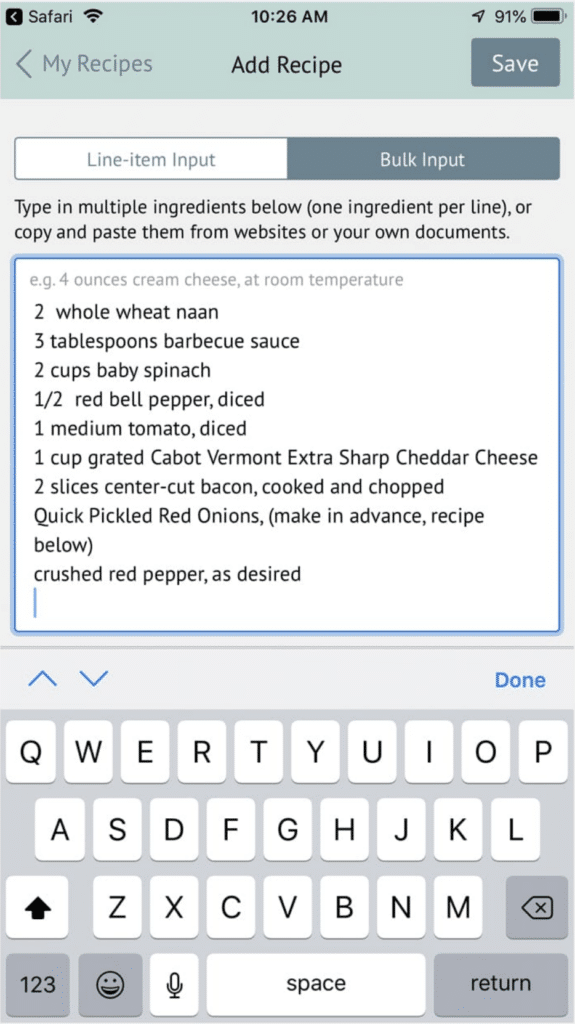 Lots of Shopping List Updates:
If you are showing purchased items on your list, you can consolidate them at the bottom of each store. Enable this feature in the List Settings by tapping the ••• option at the top right of your shopping list.
Added the total purchased items to the top right of each store. Tap the purchased total to jump to (or clear) your consolidated purchased items.
Added the number of remaining items for each grocery category.
Added haptic feedback (a short vibration) when checking off grocery items. We think this makes grocery shopping at least 10% more satisfying!
Added the super helpful Restore Shopping List feature already found on our desktop app.
And also:
Added "Cook", "Plan", and "Shop" labels to the bottom menu so navigating is easier.
Added an Edit Recipe option to the ••• menu on the recipe cards.
And of course, we fixed a bunch of little bugs.
If you don't already use our mobile app, you can download it below.
And if you're currently only using our mobile app, you may want to try out our desktop app at www.plantoeat.com. It has a few tricks up its sleeve and few extra features that are not yet included in our mobile app.