It's been over a year now of us experimenting with a Paleo lifestyle. Between the crossfit enthusiast husband of mine and my extremely athletic 12 year old (growing) son…these boys can eat! When Tom first approached me with the idea of eating paleo, I was so against it. I do all the cooking as it is, so this would mean even more work for me in the kitchen with all the weekly meal prep, nightly dinners, and then the snacks. What the heck were we going to eat for snacks? We love snacks! Well, I am happy to report that it's been 15 months since starting out and I have now fallen in love with Paleo.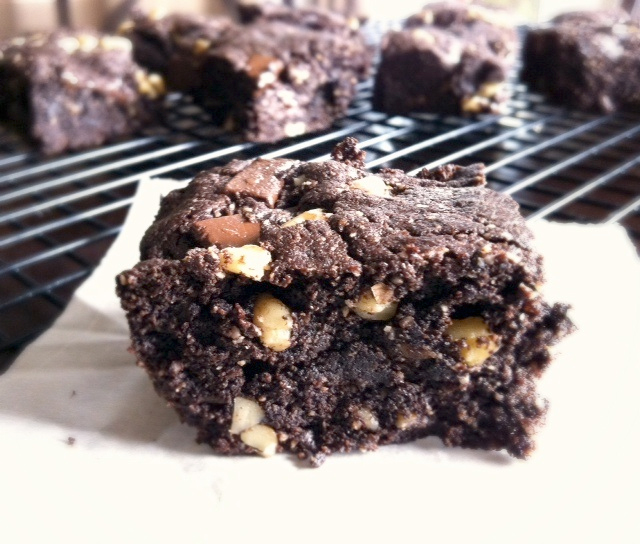 It wasn't sudden for me. I was a constant cheater. My husband has incredible self-control, I don't. I see a bag of Cadbury Mini Eggs and will impulsively devour them…what?! I grew up a sugar junkie, what do you expect. This past month I completed my first Whole 30. 30 days of whole, real food…no wheat, no grains, no dairy, no legumes, no sugar…not even maple syrup or honey! I completely cut out coffee since I like mine all sugared up and switched to green tea. I still can't believe I started and finished it successfully! It was hard, but I felt better than I have ever felt. That was my A-HA moment of believing that this Paleo thing was pretty awesome!
My son is a growing boy that is never not hungry. Never. He will eat anything and everything, so I always need a stocked kitchen. I try to avoid baking with wheat at all anymore, but sometimes I do treat him to some "bad cookies" as we now refer to them (white flour & white sugar) or waffles on the weekends. Nolan isn't on a strict paleo diet, he is about 60% paleo at the moment. For example, I make him rice with his dinners sometimes because I think he needs it since he is so active, but mainly to just fill him up!
The snack issue. Paleo baking is not technically primal for obvious reasons…cavemen didn't bake muffins and make granola bars. All of the baking ingredients were more than likely not invented at that time, regardless, it is a much healthier way of baking. I make my own granola bars, chocolate treats, muffins, granola. I have tried all the different flours and can say that my favorite one to work with is almond flour. I like coconut flour for some things, but prefer the texture of almond flour. My goal is to have the BEST possible outcome and I will try every recipe until I get there. I have had huge recipe successes and huge recipe flops. I mainly rely on my two biggest critics…Tom and Nolan. It's been such a positive learning curve and I'm constantly surprising myself!
Paleo is something we use as a guideline. We don't always abide by the strict rules of the diet, but the benefits we have all noticed from our lifestyle change makes it apparent that it works well for us. With that said…let me just say, I did it! NAILED IT! The most perfect paleo brownie you will ever taste! There is this Ghirardelli Brownie mix you can get at Costco that is one of the best brownie mixes I've ever had…and guess what? These Paleo Brownies taste just like them! They taste bad…like in a good way! Here you have it…the most scrumptious healthy brownie with the perfect balance of chocolatey sweetness and chewy texture.
The most perfect paleo brownie you will ever taste!
Source: Plan to Eat Blog
Course: Desserts-Bars and Cookies
Yield: 8 brownies
Serves:
Ingredients
1 cup

almond flour
1⁄2 cup unsweetened cocoa powder

2 tsp

baking powder
1⁄2 tsp sea salt

1 large

egg
1⁄2 cup coconut sugar

1 tsp

vanilla
1⁄4 cup coconut oil melted
1⁄3 cup Enjoy Life chocolate chunks
1⁄4 cup chopped walnuts optional
Directions
Preheat oven to 350 degrees
In a medium mixing bowl combine almond flour, cocoa powder, baking powder and salt.
In a small mixing bowl, whisk together sugar and egg. Add vanilla and coconut oil and mix well.
Pour wet ingredients into the dry ingredients. Stir until well mixed.
Add chocolate chunks and walnuts.
Spread evenly in a parchment-lined loaf pan.
Bake for 20 to 25 minutes.
Allow to cool before cutting and serving.
Powered by