Confession: this is the third time I've sat down to write this book review. I have such a deep fondness for this cookbook that I'm having a hard time finding the right words to share the fullness of my delight .  You guys, if I could pick just one cookbook to spend the summer with, this would be it.
It's not uncommon to find a cookbook with fabulous recipes. It's not uncommon to find a cookbook that's well-designed and cleverly illustrated, or a cookbook with witty anecdotes and charming stories. And it's not uncommon to find a cookbook written by someone that I wish I'd been college roomies with. But to find all of these between the covers of one single cookbook is something to celebrate.
 As someone who shares her time between Amsterdam and Paris, Yvette van Boven writes and cooks with a continental flair. But take heart, you Americans who think that continental is synonymous with fussy. Yvette has you covered. Many of the recipes maximize the use of summer's bounty with minimal cooking and minimal effort—herb salads and fruit smoothies. There are also recipes for the fussier European delights, but they are presented with step-by-step photos in such an approachable fashion that you'll turn out a plate of macarons before you can say "Ooh la la!"
As I browsed Yvette's book trying to decide what to sample, I realized that I wanted to cook everything. I ended up assembling several of the recipes into a single tasty, easy-going dinner for the family: Feta and Olive Cake, Crispy Chickpeas, and Small Potatoes with Sauce Gribiche. This was one of those times that I whole-heartedly regretted my diet restrictions that kept me from eating the same meal as the rest of the family. Everything looked and smelled so wonderful. And, except for the Bean who dislikes cheese and gagged on the Feta, everyone at the table agreed that it was a delicious meal.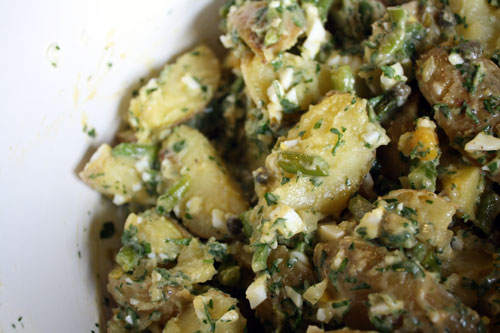 I got even, however, with the Pork Rib Roast with Warm, Buttery Gremolata and Roasted Garlic, which I consumed entirely by myself. It was so amazing that I made it two weeks in a row, once with parsley and once with basil. My mouth waters with the memory of it.
But really, even if the recipes had been a disaster, I probably wouldn't have cared. Yvette has made her cookbook a visual delight, using her hand-drawn artwork, cut-paper illustrations, and her husband's charming photography to enhance her recipes. The anecdotal stories she includes about her family's summer traditions and uniquely European holidays are endlessly fascinating. I enjoyed reading Yvette's book before I ever enjoyed cooking from it, and if you were to buy Homemade Summer just to have something pretty for your coffee table, it's totally understandable.
Homemade Summer is the rare cookbook that pleases on all levels. After spending time with Yvette's book, I wish she would move in next door to me so that we can share summer evenings lingering over slow roasted meat and fresh salads, admiring what's growing in the garden, and watching the kiddos chase fireflies around the yard. To me, that is the essence of summer, and Yvette captures it perfectly.
* Review posts are my opinions on items that were sent to me free of charge. The items were given to me, but the thoughts and opinions are my own. I only provide reviews of items that I find to be truly worthy of recommendation.
You can replace the butter with coconut oil, if dairy is a problem.
Source: Homemade Summer by Yvette van Boven
Course: Paleoish-Main (Pork)
Ingredients
4 1⁄2 lb pork rib roast (ask your butcher to remove the vertebrae and the skin but leave the fat)
a large bunch of parsley
1⁄3 cup plus 2 Tbs extra-dry vermouth

3 Tbs

unsalted butter at room temperature
3 1⁄2 Tbs olive oil

1 Tbs

salt
1 1⁄2 tsp red pepper flakes or ground black pepper

2 heads

garlic
Directions
Preheat the oven to 350 degrees F.
Score the layer of fat on the outside of the roast with a sharp knife. I like to make a checkered pattern, but you can also just carve a few parallel straight lines, I leave that up to you. Place the roast in the middle of a roasting pan.
In a food processor, combine all the remaining ingredients except the garlic and pulse to a thick sauce. The butter will remain visible in the small bits, but those will melt in the oven.
Reserve a little of the sauce for later, and rub the remaining sauce over the entire roast. Place the garlic heads in the roasting pan. Roast for 1 1/2 hours. If you use a meat thermometer, the core temperature you're looking for is 150 degrees F. This will leave the center nicely rose colored.
Remove the roast from the oven, remove the heads of garlic from the pan, and cover the roast with aluminum foil. Let the roast rest for 15 minutes.
Meanwhile, warm the reserved sauce in a small saucepan over low heat. Pour the juices from the roasting pan into a container and skim off the clear fat with a spoon and discard it. Pour the juices into the warmed sauce. Squeeze the mushy roasted garlic cloves into a bowl. Carve the rib roast at the table and serve it with the sauce and the garlic in separate bowls.
Powered by