Sometimes I think of vacation as time away from things–a vacation from laundry, from changing diapers, from mopping floors. Among the things that some folks might like to vacation from is cooking. I thought I wanted that, too. But recently the Sweetie Pie and I had the best vacation of our lives (not an exaggeration), and it was a vacation for cooking. And it was delightful.
The Sweetie Pie and I decided that we were long overdue for a weekend trip together. We hadn't had a vacation without children in well over five years. So even though one's thirteenth wedding anniversary might seem an odd choice to celebrate in a big way, we decided we'd celebrate it anyway. But where to go? I insisted on some place beautiful, but not cliche; romantic, but not saccharine; interesting, but not so much that we would feel guilty if we didn't feel like going out; a place I could cook my food, but not be weighed down by it; sunny, but not blazing hot; a beach, but no string bikinis. I am nothing if not specific.
I eventually remembered seeing Mar Vista Cottages in Sunset magazine years ago. The moment I saw it, I knew I wanted to be there. It was kind of a splurge, but we figured if we'd waited five years for this trip we were going to make it good. We booked a cottage, and began to dream of shorelines, chickens, and gardens.
I was a little concerned that Mar Vista wouldn't live up to everything we wanted it to be. I really shouldn't have worried. Gorgeous sunrises and sunsets (how is it that they get both??), fresh eggs hanging by our door, fruitful gardens ripe for the picking (in December!), adorable animal friends wandering around, and the friendliest host and hostess a guest could ask for.
Today, I'm sharing our favorite recipe creation from our time at Mar Vista. The unique and inefficient cooking method is what adds the flavor you can't get enough of. You can try to recreate it in an hour or two in your home kitchen with the children underfoot, but I'm betting it doesn't taste as good. Here's how it goes:
1. As you head out of the city for Mar Vista, be sure to drive up the slow and leisurely Highway 1. This will not only set the mood for your meal, but give you lots of time to consider what it is you'd like to include in your main dish. Chicken? Why, yes, of course. Fennel? Mmmm. Maybe some broccoli? No, maybe not. I wonder if they will have any tomatoes?
2. Stop at the local grocery store on your way for a few essentials: 1 bone-in, skin-on chicken breast, a carton of chicken broth, organic butter, and garlic. Pick up a few impulse items that aren't for the soup: local chestnuts and pears, an expensive chocolate bar, and persimmons.
3. Pull into Mar Vista, stop to greet the chickens and hug Rennata. Grab your harvesting basket and head to the gardens to see what's growing. Put into your basket: a few sprigs of thyme, a few small winter squashes (a pumpkin, a delicata, and another one you can't identify), a leek, a fennel bulb, two handfuls of carefully snipped winter greens (kale, chard, and tat soi), a small bunch of parsley.
4. Wander into the greenhouse and find (!!) tomatoes! In December! Add a handful of cherry tomatoes to your basket.
5. In your cottage, turn on your oven to 400 degrees. Mar Vista has worked its spell on you and you don't even bother slicing the squashes in half for roasting. Poke a few holes with a knife, so that they don't explode, put them on a rimmed baking sheet, and place them in the oven. Lie down for a nap.
6. Wake up after an hour to the smell of squash. Remove the pan and let cool. Meanwhile, find the largest stock pot in the kitchen and melt an entire stick of butter over medium-high heat. Chop the leek, garlic, and fennel bulb while it melts; add to the pot and saute until softened. Add the chicken breast; brown it on both sides. Pour in the box of chicken broth and add an equal amount of water. Throw the thyme sprigs into the pot. Cover the pot and let it simmer.
7. See Tom heading out to feed the chickens. Leave the broth simmering, and follow him to the coop. Help feed the chickens. Get lost in conversation. Cuddle the bunnies, tag along to feed the goats. Head back to the cottage to resume soup-making. Open the door and smell fragrant, slow-simmered broth. Get excited about dinner.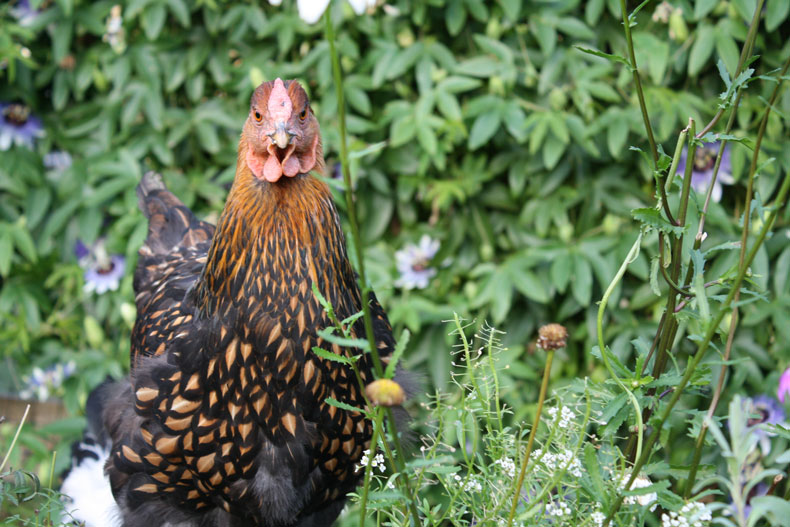 8. Remove the chicken from the pot and let cool. While the chicken cools, scoop out the flesh from the squashes (discard the skins and the seeds into the compost bin). Chop it roughly and add it to the stock pot. Remove the chicken from the bones; chop the meat and the skin and return it to the pot. Cut the cherry tomatoes in half and add them to the pot. Cover the pot and keep it simmering.
9. Head back to the garden; snip a few flowers for the dinner table: calendula, nasturtiums, yarrow. Add a few fennel fronds back at the cottage. Set the table with flowers and flatware, and lots of candles.
10. Roughly chop the greens and the parsley and add to the pot. Cover the pot and turn off the heat. Light the candles.
11. Serve up the soup into bowls with chickens on them; enjoy at the table with your spouse of thirteen years, by candlelight. Magical.
As with most things at Mar Vista, this soup is slow, casual, and highly flexible.
Source: Erin at Plan to Eat
Course: GAPS/Paleo/SCD-Soup and Stew
Serves: 4
Ingredients
1

bone-in skin-on chicken breast

4 cups

chicken broth

4 cups

water
a few sprigs of fresh thyme stripped

1 small

pumpkin

1 small

delicata squash

2 small

winter squash of unknown origin

1 stick

butter

1

leek chopped

2 cloves

garlic minced

1

fennel bulb chopped

handful

cherry tomatoes halved
two handfuls of mixed greens (kale, chard, tat soi, and/or spinach), roughly chopped
a few sprigs of fresh parsley chopped
Directions
Cut the pumpkin and squashes in half and place them, cut-side down, on a baking sheet. Bake at 400 degrees until soft and caramelized on the edges. Remove the seeds, scoop out the flesh into a bowl and set aside.
In a large stock pot, melt the butter. Saute the leek, garlic, and fennel until beginning to soften, about 2 minutes. Add the chicken breast and brown lightly on both sides. Add the chicken stock; water, and thyme. Bring to a boil; reduce the heat and cover. Simmer until the chicken is cooked through, about as long as it takes to feed the chickens and the goats.
Remove the chicken from the broth, and let it cool. Remove the skin and the meat from the bone; shred it and return it to the pot. Add the reserved squash and the tomatoes. Cover and simmer until everything is melting nicely together, about as long as it takes to cut some flowers for the table.
Add the greens and the parsley; turn off the heat. Allow the greens to cook lightly in the hot soup for as long as it takes to light the candles.
Serve up into bowls, preferably ones with chickens on them.
Powered by