The Sweetie Pie and I met in a place not unfamiliar to budding romance. We were students attending a small art college in downtown Savannah, Georgia. But like most people of that age and stage of life, we found our surroundings boring, common, and mundane. "Psh," we'd scorn. "That mushy stuff's just for the tourists." It wasn't until 10 years after leaving Savannah that we began to get sentimental about our time there. And when I found a Mrs. Wilkes' cookbook in the library, I knew I wanted to share this part of our story with the kiddos at the family table.
Mrs. Wilkes' Boardinghouse is a decades old Savannah institution. Mrs. Wilkes has been serving up southern, family style meals since the 1940's. The Sweetie Pie and I lived in a teensy apartment just a block or so away from Mrs. Wilkes. We debated about whether or not this photo showed the actual apartment we lived in–if this isn't it, we lived in one exactly like it, on the third floor.
We'd walk to class and turn our noses up at the lines of tourists waiting for a seat at Mrs. Wilkes' table. We'd make gagging noises at the smell of fried chicken and talk about how all we really wanted for lunch was some fresh sushi. We thought we were too sophisticated for Mrs. Wilkes. We thought we knew more about good food than she did. As it turns out, you can take a girl out of the south, but you can't take the south out of the girl; and there is a part of me now that occasionally longs for some overcooked vegetables and some fried meat.
Thus, I found myself with Mrs. Wilkes' cookbook, half a pound of salt pork, and a bunch of collard greens preparing for the week's Family Table Night. My menu consisted of chicken and dumplings, black-eyed peas, collard greens, and banana pudding. These foods take me straight back to childhood. These are the dishes of my growing-up years.
If you're a true southerner you'll balk at my use of veggies in the chicken and dumplings. Every self-respecting southerner knows that chicken and dumplings is just chicken, chicken broth, and some rolled out biscuit dough and that's all. You may have your greens and your lima beans and glazed carrots on the side. I did make it that way, but I couldn't quiet the food snob inside of my head saying "But it's so…beige!" and I had to throw in some carrots and broccoli. Dinner was also a little later than expected, so it simmered too long and the milk curdled. No one minded, but still, don't do this if you can help it.
At the table, the Sweetie Pie and I told the kiddos a little bit about Savannah, some of the things we did, the places we went, the things we saw. The Sweetie Pie told his favorite story about walking to class through Forsyth Park and seeing a hawk swoop down and fly off with a squirrel. I told about how I'd drive out to Tybee Island with my art history books to study for finals sitting on a towel in my bathing suit. We told the story about how we first met, and the church where we got married. The kids ate it all up–the food as well as the stories.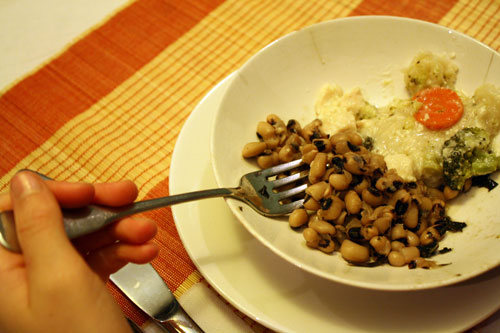 Everyone had a different favorite dish. The Bean said that the greens were his favorite because they "tasted like kale chips". Only I knew that they were his favorite because of the bacon fat that was stirred in at the end (southern cooking at it's finest!). The Peanut gobbled up everything in sight, and I have a feeling that she is a Georgia girl at heart. The kids told me that the banana pudding was "the best dessert I've ever, ever, ever made", which was kind, but a little backhanded since the pudding consisted of a box of vanilla wafers, some bananas, and a box of vanilla pudding (Mrs. Wilkes is no purist when it comes to recipe ingredients).
It happened to be the Sweetie Pie's birthday, so we stuck a candle in his banana pudding and sang happy birthday. Which seemed to be just the perfect ending to a delightful family table. The kids all came away with something in Savannah that they're dying to see. I think we will have to make a trip soon, and be the tourists that we always scorned.
The real deal! And so delicious. You can add veggies if you want to, but true southern chicken and dumplings is just chicken and dumplings.
Source: Mrs. Wilkes' Boardinghouse Cookbook
Course: Main (Chicken)
Cuisine: Southern
Main Ingredient: Chicken
Ingredients
2 1⁄2 pounds chicken cut up and ready to cook

1 tsp

salt

1 tsp

pepper
water
Dumplings:

2 cups

all-purpose flour

2 cups

milk
1⁄2 cup water
salt and pepper
Directions
Place the chicken in a saucepan and cover with water. Sprinkle with the salt and pepper. Boil over medium heat for 30 minutes. Remove the chicken with a slotted spoon and set aside.
While the chicken is cooking, mix the flour, 1/2 cup of the milk, and the water in a bowl and knead until the dough is firm. Mash flat on a well-floured surface. Let stand for about 10 minutes. Roll out with a rolling pin until knife-blade thing and cut into 2-inch squares. Drop into boiling broth. Cook for about 10 minutes over high heat. Reduce the heat to low and return the chicken to the pot. pour the remaining 1 1/2 cups milk into the mixture and stir. Remove from the heat. Season with salt and pepper to taste.
Powered by