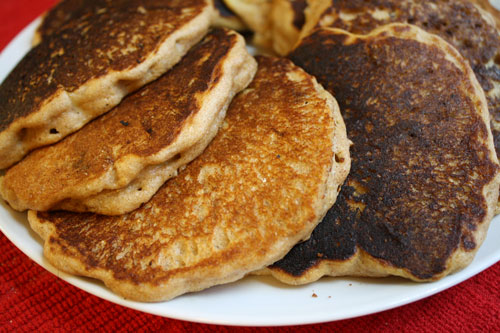 Because of all my diet restrictions, breakfast is the one meal that our family simply can't eat together. For this reason (and because he's just an all-around great guy) breakfast here is the domain of my Sweetie Pie husband. During the week, he makes oatmeal. But on Saturday morning he cooks up something special (which keeps the kiddos from complaining about oatmeal the rest of the week).
Last weekend I woke up to him whipping up a batch of these guys. The kiddos pronounced them "Yum-o!" And the Sweetie Pie really likes having all the dry ingredients mixed up, which means fewer opportunities for mistakes when trying to follow a recipe at 7:00 on a Saturday morning.
He likes to use our fresh-ground, whole wheat flour and so he used that instead of white flour. I'm sure they would have been "fluffier" with white flour, but our family usually goes for "hearty" over "fluffy". He also mixed in some apples and raisins and cinnamon into the batter. "You could mix in just about anything!" he says.
For the future, I recommended we leave out the powdered milk and simply use milk instead of water when mixing up the batter. I just don't trust ingredients that no longer resemble what they once were. Although, if you're taking this mix camping or to a mission field in darkest Peru then by all means use the powdered milk.
Plan to Eat users, click on the recipe title to import it into your account.
Source: More with Less by Doris Janzen Longacre
Ingredients
MIX
6 cups flour
1 Tbs salt
6 Tbs baking powder
6 Tbs sugar
2 cups powdered milk
BATTER
1 egg, beaten
1 cup water
2 Tbs oil
1½ cups pancake mix
Method
For instructions, see page 73 in More with Less by Doris Janzen Longacre **
** While it's technically legal to repost recipes, we don't feel it's ethical to post copyrighted recipes from the same source for weeks at a time. I'm providing the ingredient list to use in creating a shopping list. We here at the Plan to Eat blog apologize for any inconvenience. If you don't already own the cookbook, and don't wish to buy it, most libraries have a copy on their shelves. Thanks for your understanding