We here at the Plan to Eat blog had so much fun with our Christmas Cookie Exchange that we've decided to keep the party going. Every Friday will be another opportunity to share a link to recipes from your own blog or Plan to Eat recipe book. We're calling it Recipe Swap Friday and our theme will change periodically, depending on my whim and your suggestions (so if you have suggestions, let us know!)
The goal? More yummy recipes for everyone!
You don't have to have a blog to share a recipe. You can link to a recipe in your Plan to Eat recipe book by cutting and pasting the url from the recipe page. Don't be intimidated. It's so easy, I promise. Leave me questions in the comments section if you have any problems and I'll talk you through.
Shall we get started?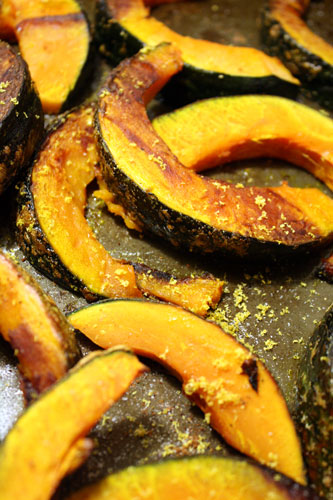 I'm guessing that lots of you have made New Year's Resolutions regarding what you eat and/or what you serve to your loved ones at the dinner table. I spent some time trying to define what it meant to eat healthy, and then I gave up. It's so individual. For example, I need lots of good fat in my diet, because my chronic illness makes it hard for me to keep weight on. But seriously, how many of you made a New Year's resolution to gain weight?? And the typical things that are considered "healthy" like whole grains and raw fruits and veggies are truly not good for me.
After much thought, I think I arrived at a healthy eating resolution that pretty much everyone would be able to agree on: more veg.
So I'm declaring our current theme for Recipe Swap Friday to be…..veggie recipes.
I tried out this squash recipe on my family last week and it was a big hit with even the pickiest eater at our table (who shall remain anonymous). The original recipe called for acorn squash. I used kabocha squash because I had one left from a friend's fall garden. You could use just about any winter squash variety you have available.
I also swapped out the butter for coconut oil to make it dairy-free. If you don't have diet restrictions, just change it back to butter.
I replaced the butter with coconut oil to make this dairy free. Use any winter squash variety.
Source: Everyday Foods (adapted)
Course: Side Dishes (Veg)
Ingredients
1

winter squash, seeded and cut into 1-2″ wedges

2 Tbs

coconut oil or butter
salt and pepper

2 tsp

lemon zest
1⁄2 tsp ground nutmeg
Directions
Preheat oven to 425.
Arrange squash wedges on a rimmed baking sheet in a single layer. Dot with coconut oil (or butter).
Roast until squash is tender and golden, about 30 minutes, flipping squash every 10 minutes or so. Season with salt and pepper and sprinkle with lemon zest and nutmeg. Serve warm or at room temperature.
Powered by

Rules for Sharing:
This is a sharing post. So…please share.
The rules for sharing are simple: If you take a taste (link from this post to your blog) you should share a taste (link from your blog back to this post).
If you're linking to a recipe in your Plan to Eat account, you don't need to bother with "sharing a taste". Just copy and paste the web address for your recipe from your Plan to Eat account.
How to Get Your Dish Onto the Goodie Table:
I really want this to be easy and accessible to everyone, so leave me a comment if you have trouble. I'll do my best to help you out. It's a little bit harder than just setting a bowl of veg on the table, but I promise it's pretty easy. Just click on the link below that says "Click to view/add link" and follow the directions from there.