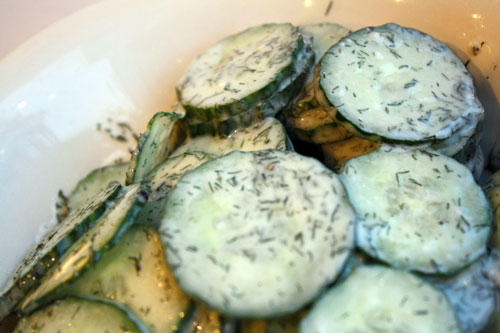 I really struggle in the winter to come up with something fresh to serve as a salad. Those tasty baby greens get kind of pricey in January, and I can only serve so much spinach salad. This cucumber salad was something new and tasty for our dinner table, and we all loved it.
I used mayo in this version, which was yummy. But I know some people are put off by mayo, so you could also use sour cream (as suggested in the recipe) or you could use plain yogurt (whole milk yogurt is going to give you the best results). I also used about a teaspoon of dried dill in place of the fresh, because we lost the garden dill to the snow many weeks ago.
When I tasted this after mixing it up, it tasted way too salty and I made a note to decrease the salt next time. But once it sat for about an hour in the fridge, it was actually just perfect. I'm not sure what the science is behind that, but either reduce the salt to 1/2 teaspoon, or make sure to give yourself time to let it sit before dinner-time.
We had a small amount of cucumbers leftover and I was suspicious that it wouldn't keep until the next day. Surprisingly, it was just as tasty. I mixed the remaining cucumbers and all of the dressing with some spinach and made a small salad to go with lunch. It was fabulous.
Plan to Eat users, click on the recipe title to import the ingredient list into your account.
Source: More with Less, by Doris Janzen Longacre
Ingredients
1 large cucumber, thinly sliced
1-2 Tbs fresh dill, chopped
2 Tbs mayonnaise, sour cream, or yogurt
1 Tbs vinegar
2 Tbs oil
1⁄2-1 tsp salt
pepper
Method
See page 249 in More with Less. **
** While it's technically legal to repost recipes, we don't feel it's ethical to post copyrighted recipes from the same source for weeks at a time. I'm providing the ingredient list to use in creating a shopping list. We here at the Plan to Eat blog apologize for any inconvenience. If you don't already own the cookbook, and don't wish to buy it, most libraries have a copy on their shelves. Thanks for your understanding.