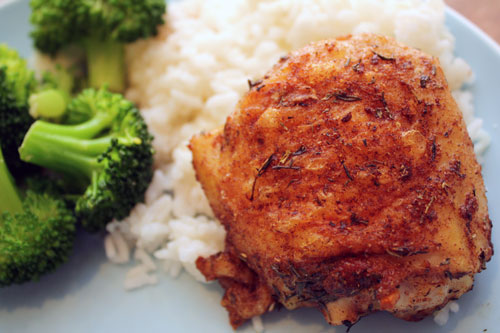 This recipe made a quick and delicious weeknight dinner. It's just a simple marinade recipe, no fancy techniques, but the combination of herbs and spices was so unique that I had to give it a try. I'm so glad I did. I think this one is going to be revisited again.
I used the recipe's suggestion of chicken thighs, but you could use any chicken pieces. You could probably pull it off with boneless, skinless chicken breasts, but pieces that have the bones in and the skins on are going to give you the most flavor.
I'm a little suspicious about the quantity of oil in the recipe. I tried grilling these on my stove-top cast iron griddle and it made such a mess that I put them back into the marinade and roasted them in the oven. I liked the results this gave me, so will probably just use this method in the future. To cook them in the oven, just pop your baking dish in the oven, marinade and all and bake for about 30-45 minutes. The marinade doesn't completely cover the chicken so the skin still gets nice and brown on top while the marinade keeps it juicy and tender.
If you want to grill them, I highly suggest either significantly reducing the amount of oil, or using an outdoor grill with a cover. I'm also suspicious of the grilling time; it seems awfully long to me. Since I didn't grill them I can't say one way or another, but I'd keep a close eye on them and check for doneness much sooner than 35 minutes.
Serve them up with rice and a green veggie.
Consider reducing the amount of oil.
Source: Harvest Eating Cookbook by Keith Snow
Course: Paleoish-Main (Chicken)
Main Ingredient: Chicken
Ingredients
2 Tbs

fresh thyme minced, or 1 Tbs dried

1 Tbs

ground coriander

2

garlic cloves minced

2 tsp

ground cumin

1 tsp

ground cinnamon
sea salt and pepper
1⁄2 cup olive oil

5

organic chicken thighs bone-in skin-on
Directions
Make a paste by combining herbs and spices with oil. Stir until smooth.
Pour the paste over the chicken in the bowl and mix well. Marinate the chicken in the mixture in a baking dish at least 30 minutes, or longer.
Cook either by oven roasting or grilling.
To oven roast: Leave chicken in the marinade in the baking dish. Cook at 350 for 30-45 minutes, until done through.
To grill: Grill the chicken over medium heat until fully cooked, approx. 35 (?) min.
Powered by