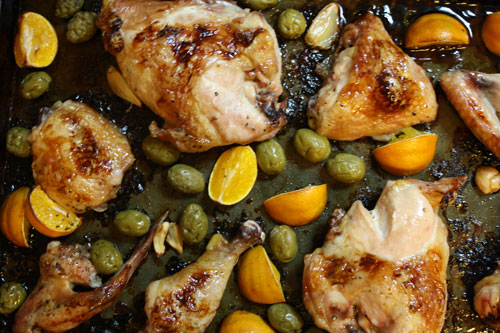 This was a sunny dish to brighten up a gloomy winter day. Even if it didn't feel like I was in Tuscany, it at least smelled like I was. It was also so easy to put together that I made it while I was sick and had a fever (for some reason, even if I'm sick everyone else still wants to eat. ???)
I was kind of surprised that there wasn't any garlic in the recipe, so I added a few cloves of crushed garlic to the roasting pan, because everything's better with garlic. I served this up with some brown rice and fresh salad greens.
Plan to Eat users, click on the recipe title to import the recipe into your account.
Roasted Chicken with Tangerines and Olives
Source: Everyday Food
Ingredients
1 whole organic chicken, cut into pieces
salt and pepper
3 tangerines, unpeeled, quartered
2 Tbs tangerine juice
2⁄3 cup pitted green olives 4 oz
4 large garlic cloves, crushed
2 Tbs honey