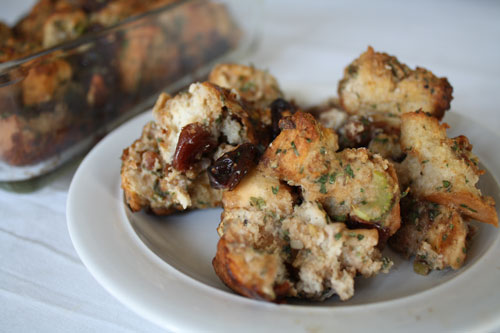 I do really enjoy a good stuffing, but I'll be honest. I prefer to have a dish that is naturally allergen-friendly over something that has to be adapted. For those of you who prefer to go "au naturale" route, I suggest Wild Rice Casserole (with or without the Pemmican addition). To make this allergen-friendly you can substitute lemon juice for the whey, oil for the butter, and any nuts you can tolerate (or leave them out). This will give you a tasty starch for your Thanksgiving table, along with plenty of nutrition and no allergens.
That said, this stuffing dish is really tasty. And I've been eating (and enjoying) it for breakfast, lunch and dinner for the past two days. So if stuffing is central to your Thanksgiving table, here's your dish.
I began by searching for the perfect bread. I didn't want to use regular sandwich bread because I thought it would get too dry. I looked around a bit for an allergen-free baguette or boule, but no luck. So I used the closest thing I could get–allergen free hamburger buns. They worked terrific. I used Ener-G brand, but you can use whatever bread works for your diet. You'll need two packages to make this recipe.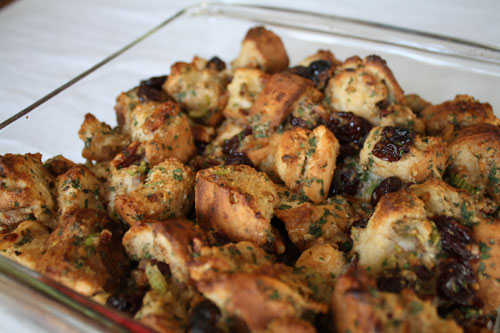 If you need to make this dish egg-free, try using egg replacer. I haven't trialed it with egg replacer, so can't guarantee the results, but I don't see any reason why it wouldn't work. If you try it, leave a note in the comments and let us know how it turns out.
You can swap out the fruit and nuts and herbs for whatever suits your fancy. You could try apricots and almonds, or even tomatoes and bacon. Use whatever works with the rest of your menu. And please share any tasty combos you invent!
Recipe adapted to be allergen friendly. To make this dish egg free, try using egg-replacer instead of the eggs. To make it vegetarian, use vegetable broth.
Source: Martha Stewart, Everyday Food
Course: Side Dishes (Bread and Starches)
Ingredients
8 cups

bread (whatever suits your diet) cut into 3/4″ pieces

3 tbs

oil
allergen-free shortening for greasing dish

1

organic onion diced

2

stalks organic celery diced

4

garlic cloves minced

1 cup

dried cherries

1 cup

toasted pecans chopped

2 Tbs

fresh sage chopped

1 Tbs

crushed fennel seed
salt and pepper
1⁄2 cup fresh parsley chopped

3

eggs lightly beaten

3 cups

chicken or vegetable broth
Directions
Preheat oven to 400. Arrange bread cubes on two rimmed baking sheets. Drizzle with olive oil and toast until dry and golden brown (10-12 minutes). Let cool.
Meanwhile, grease a 9×13 pan with the shortening. Heat oil in a large skillet and add onion, celery and garlic. Cook, stirring frequently, until veggies are softened. Add cherries, pecans, sage and fennel seeds and cook for one minute more. Transfer to a large bowl and season with salt and pepper.
Add parsley, eggs, and bread; stir to combine. Add broth in two additions, stirring well after each addition until broth is absorbed. Season again with salt and pepper and transfer to baking dish.
Bake on middle rack until golden brown on top, 25-30 minutes. Let sit 5 minutes before serving.
Powered by