We've always been a camping family. The Sweetie Pie and I once made a two-week cross-country trek without ever staying in a hotel room. Once the babies started joining the family, we had a camping hiatus for a few years, thinking we'd wait until they were a little older. But then the babies kept coming and we realized we just might be waiting a very long time until those kids were old enough. It was then that we decided that it was something we just had to do. And we haven't regretted that decision.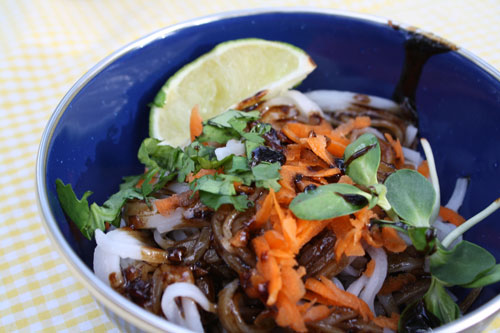 Even before I had food restrictions, this dish was on the camping menu. It's so easy to throw together at the campground because you prep everything in advance. You can mix in whatever protein sounds good to you and works for your diet. We've used frozen shrimp, shredded chicken, and marinated tofu all at different times. They were all yummy.
Fish sauce can be a tricky ingredient, so read labels carefully to make sure you're getting the real deal that is allergen-free. True fish sauce should not have soy, gluten or even shellfish. It should be made of fermented fish, whose ingredients would include fish (usually anchovies or other small fish), water and salt. You can read here about how fish sauce is traditionally made.
The other thing that makes this recipe a winner is that everybody gets to customize their own dish. This makes feeding a crowd very doable. We usually camp with another family so we're typically trying to feed anywhere from 10-15 people. This is much easier when everyone starts with a bowl of noodles and gets to choose what else to put in there.
Speaking of mix-ins, on our most recent camping trip the Peanut really enjoyed a generous handful of good, clean, mountain dirt in her Pad Thai. She thinks maybe you'd like some, too.
Plan to Eat users, click on the recipe title to import the recipe into your account.
Source: Sunset
Course: Main (Vegetarian)
Ingredients
3 tablespoon

oil
1⁄3 cup shallots minced

2 teaspoon

garlic minced
1⁄4 cup tamarind concentrate
1⁄4 cup honey

2 tablespoon

fish sauce

2 teaspoon

chili powder

2 teaspoon

lime juice

1 cup

carrots shredded

1 cup

bean sprouts or other sprouts rinsed
1⁄4 cup cilantro chopped
1⁄4 cup green onions chopped
1⁄2 cup roasted peanuts chopped (optional)

2 cups

shredded chicken (or other protein like shrimp, tofu or eggs)

1

lime quartered

14 ounces

dried rice noodles
Directions
At home: For the sauce, combine oil through lime juice in a small saucepan at home and cook for one minute. Put into a sealed jar. Chill for up to one week. For the mix ins (carrots through chicken), chop and chill in separate baggies.
At camp: Cook the noodles according to the package directions. Heat the sauce and the chicken (or desired protein). To serve, fill each bowl with noodles. Let everyone pick their own mix-ins, top with sauce. Serve with sliced limes.
Powered by

** This recipe is being shared on Cybele Pascal's blog. Click on over for lots more allergen-friendly recipes.