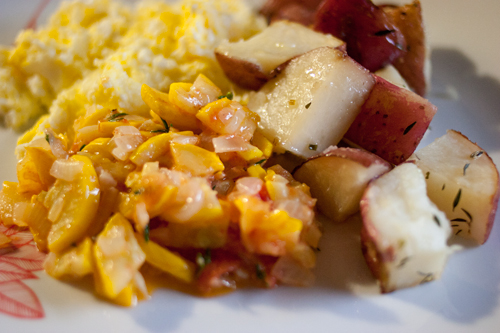 Start This Recipe about an hour and a half before you want to eat it
Dinner Table Rating

1 thumb per family member
Cook's Rating

Accessibility of ingredients, ease of preparation, and affordability
I am rich in zucchini. I have it rolling out of the garden and into the fridge, even before I can use up what's in the fridge. I was bold and planted two zucchini plants this year, because I had two different kinds of seeds. And now I remember why I only plant one. I suspect many of you are in the same position, so I've been trying out zucchini recipes to share with you. This one isn't amazing, but it'll do. It made a nice hash to go with our standard Sunday-night-scrambled-eggs-and-roasted-potatoes. A few of us didn't prefer it, but everyone managed to eat it without complaint.
I chose to withhold the star for ease of preparation. The recipe, made the way it's written, is needlessly fussy. If you follow the recipe, you will have Zucchini in Tomato Sauce. There's nothing wrong with that. It was tasty. But I'm a simple girl and I think this would be just as tasty in a simple form. I've noted my recipe changes below and plan to make it the simple way from now on.
Zucchini with Tomatoes (page 410, Nourishing Traditions)
2 medium zucchini quartered lengthwise, and sliced thinly
2 medium organic onions peeled and chopped
2 medium tomatoes peeled, seeded and chopped
1-2 cloves garlic peeled and mashed
1⁄2 tsp dried thyme
4 tbsp good-quality butter
4 tbsp extra virgin olive oil
1⁄2 tsp pepper
Sally has some notes in her book about how to peel tomatoes. I actually prefer the method I learned from Mother Martha. I peeled my tomatoes when I made this recipe, but next time I don't think I will bother. I plan on dicing the tomatoes and leaving it at that.
1. Mix zucchini with sea salt in a colander and let stand about 1 hour. Rinse and pat dry.
Here we have needlessly fussy step #2. Usually the purpose of salting and draining veggies is to 1. draw out moisture (as in cucumbers) or 2. draw out bitterness (as in eggplant). I suppose the idea in this case is to draw out moisture and keep the squash from being soggy when you cook it. I can see this making a difference if you're making a quiche or a frittata, but I just don't think it matters in this type of recipe. You can comfortably skip this step.
2. Saute zucchini in butter and olive oil over medium-high heat until golden. Set aside.
Have I mentioned how much I hate transferring ingredients from one dish to another? Sally does a lot of that. Sometimes it's valid and I can tolerate it when it's valid. But I disagree here. I get that the purpose here is to keep the zucchini from overcooking, while you cook the tomato "sauce". But if you're simple, like me, and want to make this the simple way, skip this step. Saute your onions first, then add the zucchini to the pan, then continue with step 3. I will also reduce the butter and olive oil by half next time, since I felt it was too much.
3. Saute onion in butter and oil until tender. Add tomato, raise heat and saute a few minutes until liquid is almost all absorbed.
4. Add zucchini, garlic, thyme and pepper. Saute about 1 minute more until flavors are blended. Don't overcook.
I still have many a zucchini to use up (along with cucumbers…and green beans…and tomatoes). Be sure to check back for more recipes to help you enjoy all of the goodies from your garden.