Start This Recipe about an hour before you want to eat it
Dinner Table Rating

1 thumb per family member
Cook's Rating

Accessibility of ingredients, ease of preparation, and affordability
I apologize for that title. I truly could not help myself. I did use a slurry in this recipe. And I made it in a hurry, thanks to doing all the prep work the night before. So it's really a completely valid title.
As tasty as the Carrots Vichy was, it made nary a dent in our carrot patch. So I again went in search of recipes that would require me to pull up many, many carrots. Thankfully, just down the page, I found this delightful recipe. I couldn't eat it because of my diet restrictions, but it smelled positively amazing while it was cooking and I really wanted to eat it. Plus everyone else at the table ate it, even the Peanut who is in that phase of only wanting to eat what someone else has. So she only ate it off her papa's fork from her papa's plate. But still, she ate it. We served this up on top of brown rice with the Peach-Mango Chutney, which was equally amazing, and a generous dollop of yogurt.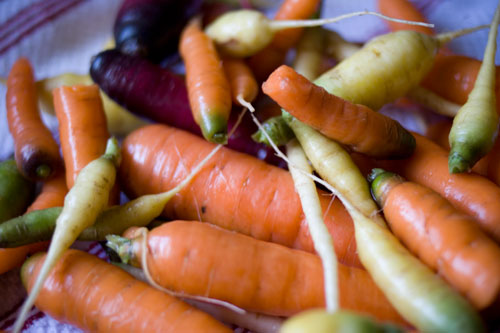 This one earns all three stars for accessibility, affordability, and ease of preparation. Don't be intimidated by those exotic-sounding spices. You can find them in any well-stocked grocery store. They will be cheaper if you can buy them in bulk at a natural food store, or at an Indian-grocer.
Carrot Curry (Nourishing Traditions, page 379)
1 pound carrots peeled and cut into sticks
2 tbsp good-quality butter (or coconut oil, if dairy-free)
2 tbsp extra virgin olive oil
1 tsp black mustard seeds
2 tsp ground cumin
2 tsp ground coriander
2 tsp tumeric
1 tsp fenugreek seeds
1 tsp dried dill
pinch cayenne pepper
2 medium onions sliced
2 red bell pepper julienned
3-4 cups homemade chicken stock
grated rind of 1 organic orange
1 tbsp fresh grated ginger
2 tbsp arrowroot mixed with 2 tbsp water
2 cups organic spinach leaves chopped
sea salt
2 cups crispy cashews chopped (page 515, NT)
1. Melt butter and olive oil in a large pot. Saute spices for several minutes, stirring constantly. Add onion and saute until soft. Add peppers and carrots and saute a few minutes more.
This recipe does require a fair bit of chopping, so I did all of the prep work the night before. Nothing makes me put off making dinner like knowing there's a lot of chopping to be done. I put all the veggies in one bowl and all the spices in another and throwing it all together the next day was a breeze.

2. Add stock, ginger, and orange rind and bring to a boil. Reduce to simmer and stir in cashews. Simmer, uncovered, until liquid is partially evaporated and carrots and peppers are soft.
Can I repeat the importance of making your own chicken broth? Seriously, once you've started using your own you will not go back to anything from a box. The taste and the nutrition are far, far superior. I know all of those excuses that you make for not using it–it's too much work, it's just one more thing to make, it takes too much time, it's so much easier to just pick up a box at the store. I get that. All I ask is that you seriously consider it. Please?
3. One spoonful at a time, add arrowroot mixture until desired thickness is obtained. Season to taste. Stir in spinach and simmer another minute more until wilted.
I took a detour at this point, because this isn't how I was taught to thicken soups and stews. Usually, if you add a thickener (like arrowroot) to cold water it will make a gloppy mess. Then if you try to add it to the hot pan on the stove, it's going to make a hot, gloppy mess. This is why people think it's hard to make turkey gravy at Thanksgiving. Here's the better way: put your thickener into a small bowl. Add a few spoonfuls of hot liquid from your pan and stir well with a fork until totally combined. Slowly pour this mixture into your pot, stirring the entire time. I've never had lumpy gravy when I take my time and use this method.
And with that our carrot patch has been, for the most part, completely uprooted. Up next: green beans…..or maybe zucchini. Perhaps both, as they are both rolling out of our garden at a shocking pace.
Serve with basic brown rice (pg 466) and fruit chutney (pg 106).
Source: Nourishing Traditions by Sally Fallon
Course: Main (Vegetarian)
Ingredients
1 pound

carrots peeled and cut into sticks

2 tbsp

good-quality butter

2 tbsp

extra virgin olive oil

1 tsp

black mustard seeds

2 tsp

ground cumin

2 tsp

ground coriander

2 tsp

tumeric

1 tsp

fenugreek seeds

1 tsp

dried dill

pinch

cayenne pepper

2 medium

onions sliced

2

organic red bell pepper julienned

3-4 cups

homemade chicken stock
grated rind of 1 organic orange

1 tbsp

fresh grated ginger

2 tbsp

arrowroot mixed with 2 tbsp water

2 cups

organic spinach leaves chopped
sea salt

2 cups

crispy cashews chopped
Directions
Directions on page 379 in Nourishing Traditions
Powered by